Online education, or e-learning, is not a trend anymore. It's a necessity. One of the most convincing benefits of e-learning courses is that they can be both developed and delivered much faster than regular ones. You don't have to worry about printing materials, renting classrooms, projectors and other technical equipment. Internet connection is all you need to start an e-learning business.
If you're wondering about how to make a learning app for kids or for adults, check out our latest guide on e-learning app development, turn on some lo-fi background music for concentration, and let's begin with the ongoing learning trends.
In 2020, we shared that the dominant trends of the e-learning market were:
Mobile learning,

Video content,

Personalization,

Artificial intelligence,

AR and VR,

Gamification,

Microlearning,

Social learning.
So, what are the main trends of e-learning in 2022?
#1 Scenarios and roleplay
What's education without fun? Scenario-based learning, sometimes also called case study learning or roleplay, is a powerful teaching strategy you can incorporate into your future e-learning courses. Apart from being fun for you and your learners, it also uncovers their complex personalities, helping you understand and engage them more easily. 
Roleplay can bring an e-course to life, help teach empathy, grow interpersonal skills, and practice the scenarios the learners are going to face in the future.
The best type of role-playing game for e-learning is the one that creates a sense of conflict.
There are 3 types of scenario-based learning in the e-learning project to engage and develop students' soft skills:
1. Behavior criticism. One model enacts "bad" behavior, while other students highlight the mistakes. A common and popular practice in medical e-courses. 
2. Who am I? An e-learning acolyte pretends to be a famous person that's relevant to the e-course, prepares a speech, and others try to guess the person from that speech. Helps with history lessons, languages and more. 
3. Murder mystery. This type of roleplay teaches investigative skills and social policy. 
Similarly, other topics such as leadership and project management are best learned through observation and immersion, which helps explain why scenario-based learning is becoming more common. 
#2 "Life skills" content
Companies who buy e-learning courses for their employees are interested in them developing soft skills. Recent market experience shows the importance of maintaining a healthy work-life balance. Both employers and employees benefit from successfully organizing their lives between work and leisure. It also reduces the risk of burnout to employees' health and happiness.
The prediction is that in 2022, companies in the e-learning industry sector will offer more courses that help better corporate environments and improve employee health and well-being. They might include content like fighting burnout and maintaining a work-life balance. New e-learning apps and web platforms will focus on areas of personal development like productivity hacks and mindfulness, or even on topics like how to manage your personal finances and decrease stress. Considering the e-learning industry's growth, remote learning might just broaden its spheres of interest.
Courses that develop hard skills are great, but think of developing some useful masterclasses aimed at preserving mental health and wellbeing. Your users will be grateful!
#3 Data-driven Design
Thanks to data-driven design — designing products based on data (research, tests, hypothesis testing, Big Data) — you can measure several indicators of the educational process at once: 
User progress, 

User satisfaction, 

Quality of individual content units, 

User learnability, 

Compliance with market expectations.
Digital assistant apps are and will be wildly popular in the e-learning industry to study the behavior of users on education websites and their reactions to different content. This allows you to quickly monitor the situation and refine programs. 
Another trend closely related to this is the construction of individual educational trajectories and the adaptability of learning. Here we are talking about the fact that training adjusts to the input level of students, their goals, individual speed of passing and fixing the material, preferences in content and format, and the possibility of choosing cases for practice.
#4 Massive online open courses
The acronym for the term MOOC is made up of 4 words:
Massive: this form of online learning involves a large number of students, not limited by geographical location.

Open: e-learning courses are free for everyone.

Online: distance learning courses are conducted using online communication tools. All materials are in electronic form in the public domain.

Course: a structured and ordered presentation of information with specific goals, rules of work, and time limits, which, however, may change for each individual participant.
Several advantages of massive online open courses are turning more and more e-learning projects ‌into this e-business model:
Interactivity
An e-learning website with MOOC doesn't mean the absence of student feedback. On the contrary, MOOC implies numerous channels of communication with the teacher-leader of the course, as well as with the rest of the students.
Useful links
Students organize a community for the current online course, where they will not only share knowledge with each other but also act as reviewers. Typically, each participant in a distance learning course must check the work of several students. Several listeners will also check out his work. Thus, students form a group of people who are interested in the course's subject and their professional development in the designated area. Each participant gets a unique chance to expand their understanding of the chosen subject and make interesting and useful contacts, having received first-hand information.
Quick feedback and evaluation
After submitting the work, students receive an assessment of their knowledge almost instantly. At the same time, each recipient of online education retakes the exam or rewrites the test.
Best teachers in the world
Online learning is conducted by highly qualified teachers from the world's most famous universities. Each student of the distance course communicates with the leader personally.
Free of charge
The very term "open", encrypted in the name MOOC, means "free", or shareware. As a rule, there is no charge for attending the course and taking part in assignments. However, even if it is available, the cost of an MOOC course is incomparable to the cost of face-to-face training, and represents a nominal fee.
Up to date
The labor market is developing rapidly. Specialties that are still not taught at ordinary universities have long appeared and become in demand. Online courses can respond to market changes with lightning speed, providing training programs of the day.
Flexible study schedule
Each course is limited by the time frame in which the student can make a convenient study schedule. The lecture can be watched later, or reviewed several times if the topic is not clear. Homework can also be completed at any convenient time interval and at any pace.
Blended online learning system
What does remote learning mean when it involves MOOCs? With massive online open courses, you'll have to use a variety of materials. MOOC distance education technologies is not limited to videos. They are complemented by links to various sources: text documents, audio files, discussions on forums and on social networks. Overall, massive online open courses are a great way to promote your e-learning web platform or app.
Such a system increases the perception of the material and also develops the listeners' ability to navigate the flow of information and independently get the necessary knowledge.
#5 Immersive learning
What is remote learning without fancy gadgets? Immersive learning is a method that uses an artificial or simulated environment through which students can become fully immersed in the learning process. It not only eliminates distractions but also breaks the monotony of learning and development by providing stimulating visualizations. Immersive learning allows you to increase student engagement and therefore make learning more productive.
Immersive technologies are used to train employees like, for example, with medical students and practitioners. Such training saves companies time and money, letting employees receive new skills without transfer and spending money on expensive equipment.
Technologies like augmented reality (AR), virtual reality (VR), and mixed reality (MR) are a part of immersive learning. They allow students to experience different subjects first-hand, blending theory and practice together. 
Virtual Reality (VR)
This technology uses digital simulation to recreate real scenarios. Putting on the headset, it immerses the student in the virtual world and can travel to the most physically inaccessible places. ImmerseMe Language Learning App in VR and Learn Languages VR App by Mondly are one of the most popular examples of such games:
Augmented Reality (AR)
Augmented reality is a technology that allows you to transform the proper environment into a digital interface, improving the perception of the real world. AR adds digital elements to reality to enhance it. For example, Narrator VR app for tablets enhances pre-school education: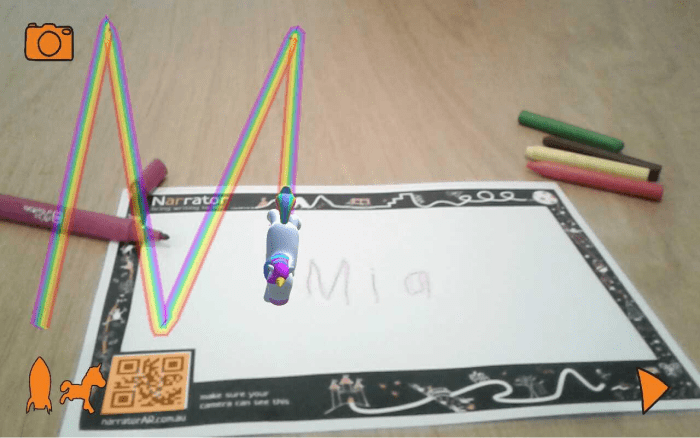 Mixed Reality (MR)
A combination of augmented reality and virtual reality, MR or mixed reality, is a technology that makes virtual interactions more realistic. MR allows digital and physical objects to coexist and interact in real time.
It's difficult to maintain concentration, especially when your favorite smartphone is always nearby! Immersive learning removes all distractions and allows users to fully immerse themselves in the virtual world.
Can e-learning replace classroom learning? Definitely! And here is why:
E-learning allows for a more flexible schedule when it comes to education, making it far easier for individuals to work towards a degree or increase their skill set while maintaining jobs and supporting their family simultaneously. This alternative education option allows a worker to complete course work when they have time. Often offering little time restrictions, e-learning allows students to listen to lectures and produce work when they feel most productive or when they have time.
How does e-learning work? See our reads on e-learning app development:
Every e-learning app or web platform has to be unique to appeal to the audience so that people would relate to it. Anyone who wants to scale their brand should take a closer look at such an opportunity. This is a great time to share information and experience in your field. Contact us, so we can lead you every step of the way.