Popularity of business apps
Have you heard that business app downloads jumped 132% last year? And this number is not only huge, but it's the biggest among non-gaming app categories! And here is an infographic showing how business apps are leading by user spending: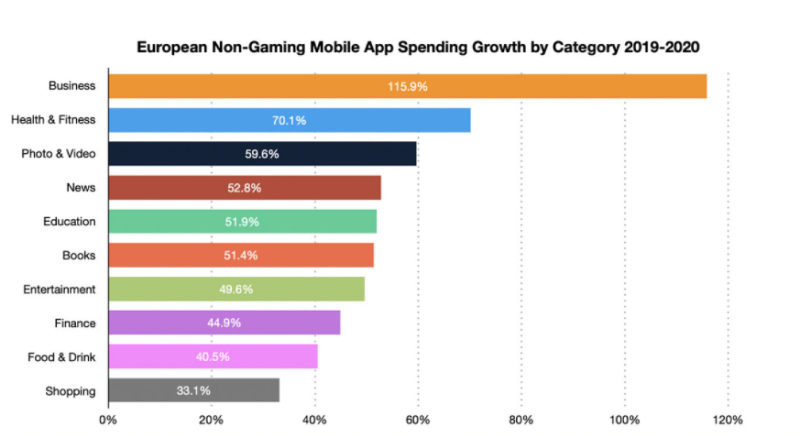 Business apps are designed to simplify office work and help solve the problems of the business sector. Today, a significant number of people (more than one-third) are active users of modern digital gadgets: tablets and smartphones. In the West and in Asian countries, there are even more such people, and the mobile app market is developing at a tremendous pace.
Among the most common internal apps, for example, are those for:
business automation (restaurant and hotel businesses, shopping centers) 
And optimization and efficiency of collective activities (here is an article about custom enterprise app development)
applications that allow shared access to work documents

programs for internal communication (messengers)

mobile versions of corporate social networks

and programs for project and task management
The market for business apps is huge! You need to conduct deep research on your idea to implement it wisely.
Business app research
There are several points to clarify before creating an app for the business category:
Demand among users for similar applications.

Advantages and disadvantages of competing apps.

Audience feedback.

Resources (downloads, ratings, screenshots, descriptions, etc.) that you'll  need for promotion.
Sections that require special attention are "What's New and Interesting" in the App Store and "Editor's Choice" in Google Play. Every week these sections feature applications that are selected by the store teams. By constantly monitoring updates, you can understand store preferences, see market trends and get a free promotion. As a rule, simple, originally implemented, and well-designed applications fall into this category.
The last thing that a developer should do is analyze the app category. The fact is that in the Business category applications are experiencing colossal competition due to oversaturation. Entering the top of this category requires a large amount of money. Therefore, if the intended app is suitable for several categories, this possibility must be taken into account.
After the assessment, if you are confident in the success of your idea, you can proceed to calculate the profitability. 
It is necessary to determine: the market size, the volume of the potential target audience, the method of monetization, and the ideal outcome. The market volume is calculated based on analytical information assessed according to the scheme described below. Regarding the potential audience, things are a little more complicated. The forecast is based on the data obtained during the analysis of the market volume. 
For the calculation, you need the following data:
Which platform – iOS or Android – your audience prefers

The number of users who may be interested in this application. As a rule, age, gender, interests, and specific behavior are taken into account.

The average number of users willing to spend money on the application. 

The average price of a similar application in the same category.
5 brilliant ideas for business app startups that will be successful in 2021–2022
Payment systems
Some example applications are Purse, Discount cards, Apple Wallet (iOS). With the proliferation of the NFC modules built into smartphones, the demand for universal wallets and programs for controlling finances is growing. The possible advantage is adding to keep track of expenses or form a family budget. It is convenient to carry out all financial transactions, from internet banking to summing up the monthly budget, using one app.
Pocket accountant
If your company is related to finance (banks, accounting services, financial accounting, and auditing), then to develop the brand image among the wide audience, – you can make a Home accountant app. Here users can keep track of their expenses and income. Such applications are quite popular, so why not add something innovative to such an idea and displace the competition?
Application for buying and selling company shares
It is not necessary to sell or buy the whole company – you can do it in shares. It looks like this: someone offers a 15% stake in their software company for the price of $100,000. If a user becomes interested and acquires it, the application's creator receives a percentage of the transaction or a percentage of the share. The main task is to bring a buyer and a seller together. All legal aspects users take – unless, of course, you offer legal support for a fee.
Current laws – track new laws on your smartphone
The application informs users about the emergence of new laws or changes in existing. After a user signs up and selects a category they want to track, they will receive notifications about new laws and bills.
Business investment application ideas
Who can help you double or triple your investment? Don't worry, this app that provides you with business investment plans in various fields can be your lifesaver. A mobile app developer can create a basic app with industry categories and let users explore ideas by setting their budgets and time limits. This could be one of the useful 2021 app ideas to help you conquer the world.
Creating a business app
Among thousands of business apps, you need to stand out to win the attention of your possible users and earn from the app. It is a rather costly thing to create a worthy and well-thought-out business app.
Keeping in mind the sum you'll spend on the business app creation you need to calculate the potential profit beforehand . Understanding this figure makes it possible to calculate the amount that will cover the costs of creating and promoting the application, the amount of income, and the possibility of changing the price or method of monetization.
Developing a successful app in the business category is a rather difficult and challenging task due to the vast number of rivals. But you can handle it if you have a unique and really useful idea and can put it into practice effectively. Contact us, and we will give you all estimates on developing and designing an app according to your idea.