UI/UX Design Services
At Shakuro, we offer UI/UX design services for startups and established businesses and deliver mobile and web products that make the impact and win the audience's attention. We love to help great companies fulfill their potential.
Shakuro digital design agency creates state-of-the-art interfaces and designs smart digital products for business and entertainment, builds brands, websites, apps, and other software. Our UI/UX design services focus on helping you realize your vision and showcase your products to generate greater profit.
Why custom design is important
Your app or website has the potential to become your most important marketing asset. For that, it should accurately reflect the nature and philosophy of your business and no ready-made template is capable of that. Our clients make use of our app and web design services when cookie-cutter solutions no longer cut it and get tangible results and boost their audience experience.
Without a unique concept, it's very difficult to unlock the brand's potential, create and control a planned internet presence. Professional UI/UX designers, experienced at exploring the meaning of design and its different applications in different contexts, can help create your consistent story and do it fast and beautifully inside and out thanks to a solution-based approach and tested design process you can look through below.
Our design approach
Why design matters
Design humanizes technology. It brings delight and makes people feel safe and taken care of. The interface is the front side of the product, the experience is how people feel about it. We design both.
What will happen
Design humanizes technology. It brings delight and makes people feel safe and taken care of. The interface is the front side of the product, the experience is how people feel about it. We design both.
We stand behind our work and explain everything we can. It's not cheap but our costs are real and never exceed the limit. As a UI/UX design company, we get hired to make a profit and our job is to render our services to build reliable, functional, and beautiful digital products.
• We'll have a team of five experts assigned to your project at the start.
• There is a 70% chance you'll return to us with another idea.
• Though this is about design, we are also developers, including the CEO.
Our creative design process
In order to design, build, and launch your new successful and usable mobile app or website we implement the following process broken down into 6 distinct steps and honed over a decade of design experience. The first aim and the gateway intention of any design are to engage a user. We thoroughly study every new case to find that unique trait to build upon.
Research
A visual appeal must come with a purpose. First, you need to identify market trends and consumer behavior. We combine engaging UI elements with clear-cut actions to create an agile experience.
Prototyping
Next comes the phase when using the research data and having gone through multiple iterations, adjustments, and refinements, we come up with a visual prototype ready for the initial review.
Applying feedback & improvements
We diligently study our client's business goals, entangle them into the interface, and create a user experience, while staying sensitive to the feedback at all stages.
UI design & UI kit
The technical part of the app or web UI design is arranging all the assets, tools, styles, fonts, patterns, and color schemes into reusable and handy kits of interface elements to be used while designing your website or app.
Adding animation & supervising quality
We revitalize the designs with beautiful custom animation to create an engaging and delightful experience. All that under the close supervision of implementation quality.
Launching & maintaining
At all stages of development, we make sure the UI is pixel-perfect and the UX is as absorbing as it gets. We work towards the flashy product launch and smooth consequent support and maintenance.
Our principles
We apply the following principles to have a shared understanding of our professional design services and approach. They act as beacons and help us create quality products and always deliver expected results ensuring that your investment in design is worth it.
Deep understanding of user needs
Above all expectations in usability, interaction, functional, and "catchiness", lies the ability to read users' minds and predict their intentions. Understanding what users need from the product or service you are building is essential to its success. That, we believe, is the core of User Experience Design.
Resilience & adaptability
Embracing people's uniqueness is what keeps our UI/UX design company afloat. This plays both ways: as a hired team of professional UI designers, we are methodical in the way we approach new projects, but we are also flexible because we care for our clients and their clients.
Perseverance & can-do attitude
Our close attention to detail, the ability to understand customer needs, and our experience in building the user experience are the key sources of our progress. We never stop improving our craft because we solely rely on the accomplishments of the products we create for our clients.
Thoroughness & laser focus
Attention to detail separates the good from the great. Providing our UI/UX design services, we listen to our clients' ideas and strive towards the 100% accurate and usable UIs as well as the unquestionable UX even in the wake of waves of changes to the design if the need arises.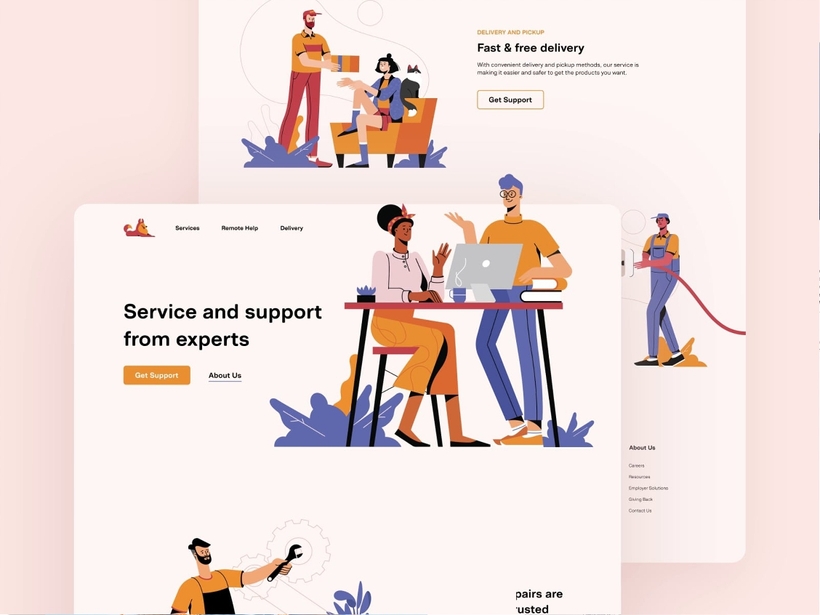 Custom animations
Motion elements made a long way from being just decorations at the dawn of digital design to something that brings value and improves usability. Animations and micro-interactions are a great way for a brand to visually communicate its message to the consumers and make an app UX more interactive. We make cool animations that are useful and functional, that control and hold user attention, quickly explain the idea, help to navigate, and lead to actions.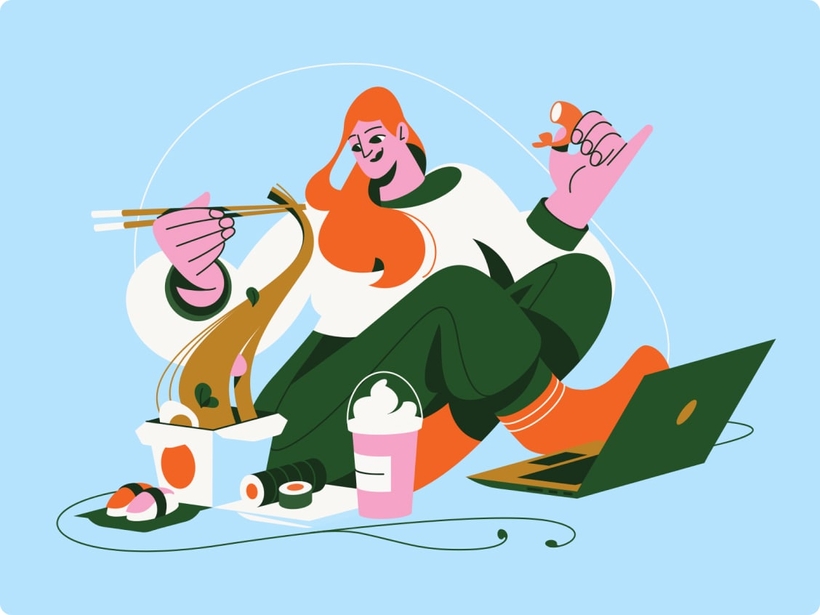 Illustrations
Custom graphics took the world of product design by storm in recent years. They are a powerful branding tool able to go beyond the limitations of photography and communicate, explain, connect, guide, and delight in a superior way. Shakuro design agency creates illustrations that forge and maintain corporate identities and help to stand out among competitors while making products easier to understand.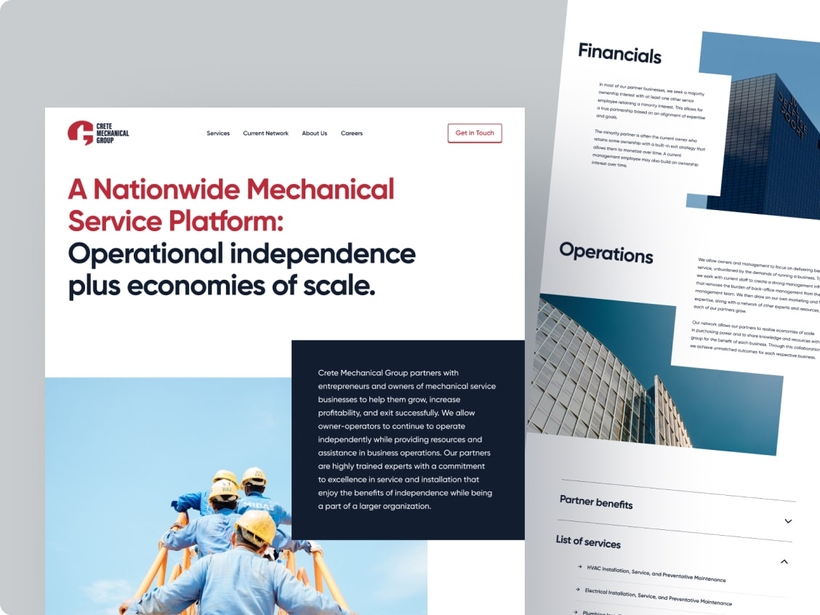 Business/corporate websites
One of our specializations is making marketing websites and landing pages for small businesses and established companies that help to tell brand stories, increase conversion, and build trust. All beautifully adapted for mobile devices allowing a consistent experience across desktop, iOS, and Android.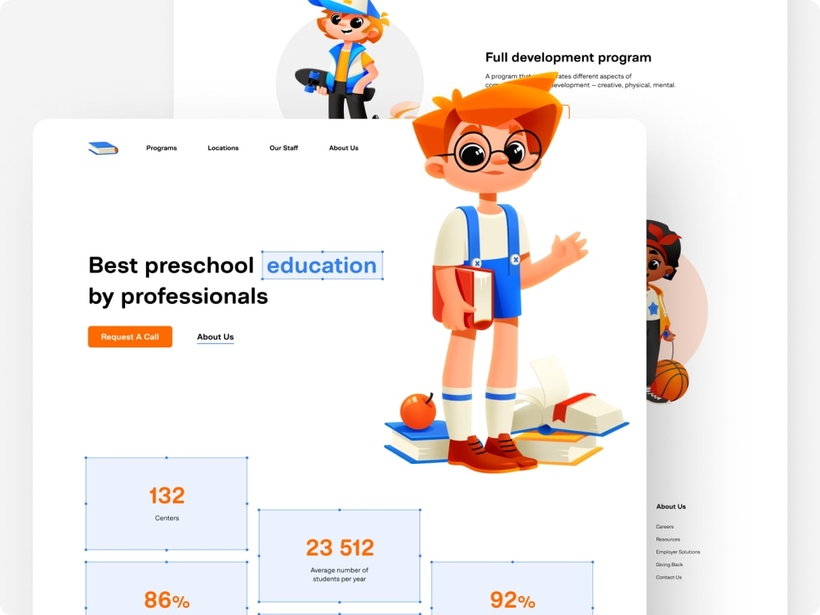 UI/UX design services for startups
A startup is a company that operates in conditions when a solution is not obvious and success is not guaranteed. Design plays a vital role in an establishment of a new product and acts as a way of thinking that helps to showcase its functional and aesthetic qualities, get noticed, and provide a foundation for future changes. For startups, we also have the Conceptzilla service that can bolster your startup on a lean budget by providing affordable app concepts in a matter of days. It's quick and costs only a fraction of the industry standards rate.
We do all this to provide real value. Check our portfolio to see how.