In-app mobile animations make static screens live a little. All the micro-interactions, tiny responses from the interface, transitions do a great job of blending the ways real things behave with a digital realm. Most time, we attribute usability to pleasurable functionality but we never go too deep into what makes functionality enjoyable.
Try reducing motion on your iPhone if you want to start using it less. This means animations attract interaction and help functionality become loveable which is the core of good UX. Here, we'll go through the types of those in-app animations and where the boundaries of improving the UX are. Because in the words of the great comedian:
"If you're walking on ice, you might as well dance". 

– Joey "Coco" Diaz
What animation represents
Every physical object moves. They might be still technically, but in relation to the environment, they all move. As the Sun moves over a stone in the woods, the game of light and shadows enlivens the dead stone. Our eyes are designed to capture movement because it bears a lot of information. In design, it would be a shame to leave that information unaccounted.
Motion is the first thing we see in the product along with color, images, and typography. These four are the main contributors to a brand's or a product's personality. It's important for a product to have a stance on how it's elements move and what stands behind that movement. But first, we need animation in UX design to make it:
Illustrative.

It can demonstrate the functionality or help understand it better.

Amusing

. Value can be expressed in many ways. Positivity is one of them.

Familiar

. We expect certain reactions from certain actions. Animation familiarizes.

Engaging

. We tend to follow patterns and animation is a great source of those. 
The reason to animate the interface depends on the goal of that specific interaction. Let's take engaging a user and directing their attention. Since movement is something we instantly see, it makes sense to use animation for things like banner ads and spams. Ads aren't expected to sell the product, as much as they hunt for views. A view is a sell and they will get it from you by using cheap tricks. Banner ads animation is definitely a cheap trick that works.
Attention
Attention is a subject of marketing. Marketing animation is about making people get something out of the brand elements, relate to the company, establish trust. That's easy to do when the logo animation speaks a certain dynamic. Is it warm and cozy or energetic and perky? Why make people guess when you can show it right away? More so, the logo animation can tell a story while the rest of the app is loading:
A great way to kick off the relationship with the app is by saying what the brand means and how it wants you to feel about it. This is not a banner ad flashing type of attention. It's the why pressed through the most powerful channel of perception – vision.   
Reaction
Animation magnifies the satisfaction you get from successfully performing a task. The more complex the task, the more rewarding it should be. Motion is how we convey the mood and the attitude of a product to the user's actions. Such animation can cover up the time needed to complete the technical request or form submission. It shows a user there is work going on and appeals to the natural feeling of completion.
The purpose of this animation is to direct users in a way that helps them. For example, a file sending gone wrong does not have to be a pop-up with an error code or a "whoops" type message. There is enough frustration going and we should take some of it away by showing our care with a meaningful motion graphic.
We animate the feedback to make sure a user gets it. This is the functionality. But we do it in a way that reassures or delights them so that regardless of the operation success, people will feel taken care of.
Progress
Most web processes have designated patterns that people recognize and expect. At the same time, with a variety of devices and screen media, it's extremely challenging to maintain the same behavior with a lesser estate. This means we have to divide certain processes into comprehensible bits while mapping the entire progress.
This is how Google addresses a rather complicated and long process of copying information to Pixel 3 phones: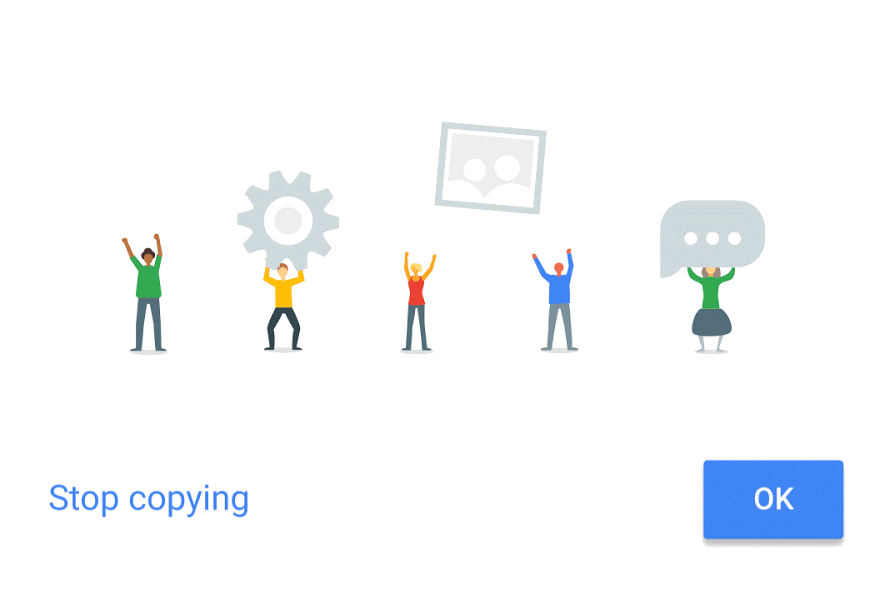 Since this is a phone, you won't be able to just switch to a different tab and keep yourself busy with something else. Still, you have to know what exactly is happening and why it is important.
Navigation
Animation does not always have to hide the process in the back. It works just as good as a navigation facilitator, especially when the app structure is too complex to show it on one screen. The layered app architecture can be animated to demonstrate the hidden parts:
Change
Interaction is based on impact. Animation can light up the impact by reacting to a user action in a way that conveys meaning. When you touch an element, you change it, that's the point of the tactile experience. We can use motion to create that ripple effect:
This visual activation is a system response before a user even takes a significant action. It is crucial for conversion because this motion is natural, does not require any input other than just presence. 
Fun
Sometimes animation does nothing but makes you smile. When done right and in timely fashion, this is a great engagement booster. Fun-driven animation has to appear in the places of the app where it's either not expected or where ic can't do harm. That's because even the coolest loading mobile animation can raise up frustration if it stands in the way of an important task.
There's a fine line between fun and annoying and it's important to find the spots where we can relief some tension by dropping in some motion:
This is where you use all sorts of faces, stickers, mascots, and cute things. A little fun is always a nice way to add life to the app UI and show the human side of the product.
Notification
Notifications are a slippery subject. Sometimes people want them, other times they hate them. Literally, the same notification. For UX designers, this is even harder. Once the notifications are muted, the app is likely to follow this silent road to obscurity. Sometimes a notification can suffer from user actions, like stalking. The last thing you want is your design to be a part of the don't @ me thing.
Apart from the extreme contexts, the majority of notifications works to help people stay posted about the things they need. With the help of meaningful animation, we can take tune into that mental space and create delight:
* * *
Animation is a huge part of modern UI/UX design and digital design agencies are just getting started with it. It's a natural process of evolution that will ultimately make all animation meaningful and purposeful, forever cutting the ties to decoration. Added complexity will be replaced with modalities and subtle messages a well-thought-out animation certainly brings.