Online sales have been around for quite some time but in a lot of ways, it is still an uncharted territory. The web exhibits a wide range of options for marketing and selling. There is technology that dints the way we sell online, there is the hype that comes out of nowhere and skyrockets certain products, and then there is the delight that makes customers pick one service over other.
A textbook success story
Michael Dubin has had it with the shopping mall razor buying experience. He felt like it was way too inefficient, driving there and back, finding the razors stand that is always locked, finding a guy who's busy doing other things and have him unlock it. Not a delightful experience by any means. Not to mention the price tag on most razors. So Mike found a startup on a simple yet powerful idea of ridding men of the necessity to buy razors in stores and do it online instead. Have them delivered to your door for a price as cheap as can be.
Dollar Shave Club, the company that turned out to become one of the greatest online enterprises of the last decade. Having closed the seed round at $1 million in 2012, a year after the startup was founded, Mike Dubin launched his DIY promo video on YouTube. The video became viral. Within the first six hours, the website crashed… and the warehouse ran out of the inventory. Safe to say the infrastructure was all but prepared for what was to come.
In 2012 the general revenue was $4 million, followed up by $19 million in 2013, and $65 Million a year after that. In 2015, Dollar Shave Club took it past the hundred million dollars mark. On July 19, 2016, Dollar Shave Club was acquired by Unilever for a reported $1 billion in cash.
Having built a completely bootstrapped empire on a challenging terrain that is the internet, Mike Dubin and his company showed how the new-age e-commerce reality works. In a lot of ways companies like Dollar Shave Club paved the way for indie entrepreneurs while also providing a valuable insight into the big league players. The time has come for e-commerce to break new grounds.
Like anything on the internet, it took a spark to ignite the flame of online sales. The industry is growing at a rapid pace converging all sorts of different cultural and technological phenomena into an entity we call e-commerce.
The top e-commerce startups around the globe
The map of e-commerce companies with $100 million fundings as of late 2017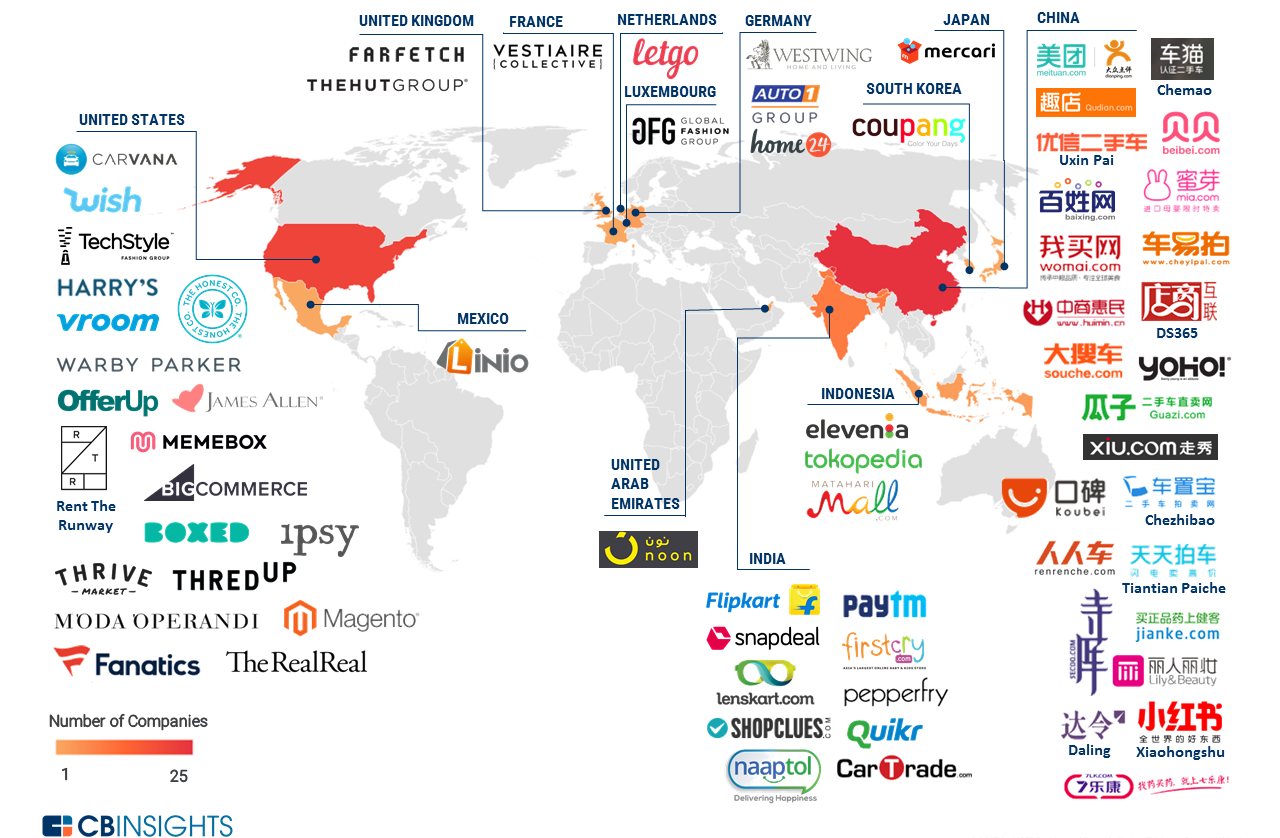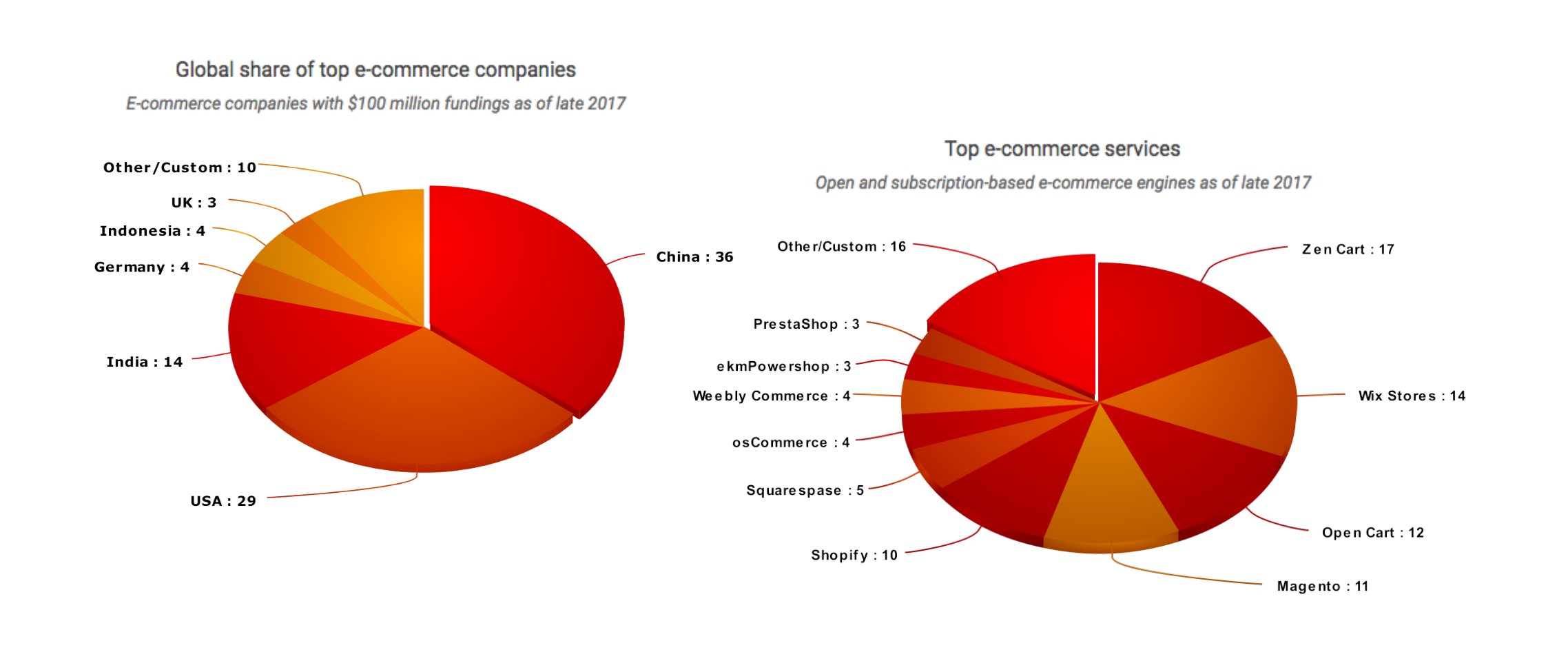 The future of e-commerce
The furious pace of e-commerce platforms development makes us think about what the future holds for online retail. How do we adapt our skill sets to stay relevant in this business 10 years from now? To stay ahead of the curve both in trend awareness and technological finesse, we must know what the industry is heading towards.
Disintegration of omnirange online retail
The previous decade was the time of huge retail platforms consolidating the entire array of products and commodities. However, the independent sources and custom e-commerce solutions are starting to build the unique experiences noninferior to the huge enterprises. The retail stores specializing in the proprietary product lines with expertise in a certain niche will nudge the existing online retail giants.
Expansion of e-commerce sales performance
As of now, sales from the e-commerce segment including website retail and purchases in mobile apps, count 12% of the US market sales. The advances in technologies, new marketing strategies and user experience of e-commerce platforms allow us to predict the further rise in the share of online retail to 40 and even 50% in the next 10 years. This means the brands that embrace e-commerce leader status today will become a force to be reckoned with in future.
Augmented & virtual reality in e-commerce
The topic of AR and VR technologies have been buzzing for quite some time. Some of the major brands have already implemented augmentation into their sales models. If we are talking about the increase in online sales, this goes in hand with the substitution of the customer's ability to try the product before buying. This will also mean the more immersive personalized experience for every user. Customized e-commerce platforms have to consider AR & VR potential and advance towards the implementation of those.
Better shipment for e-commerce
The weakest points of today's online retail are the distribution and shipment aspects. With that said, these weak points present the opportunity for those e-commerce retailers who put their time and effort into the improvement of shipping. There is a reported 43% growth in sales for the e-commerce solutions that introduce a better customer experience through better shipment and distribution. What users want is faster delivery and convenience without distraction. If an e-commerce platform can reinvent its shipment through the integration with other agile businesses, it will reach the new level of sales and recognition.
Retail e-commerce sales worldwide from 2014 to 2021 (in billion U.S. dollars)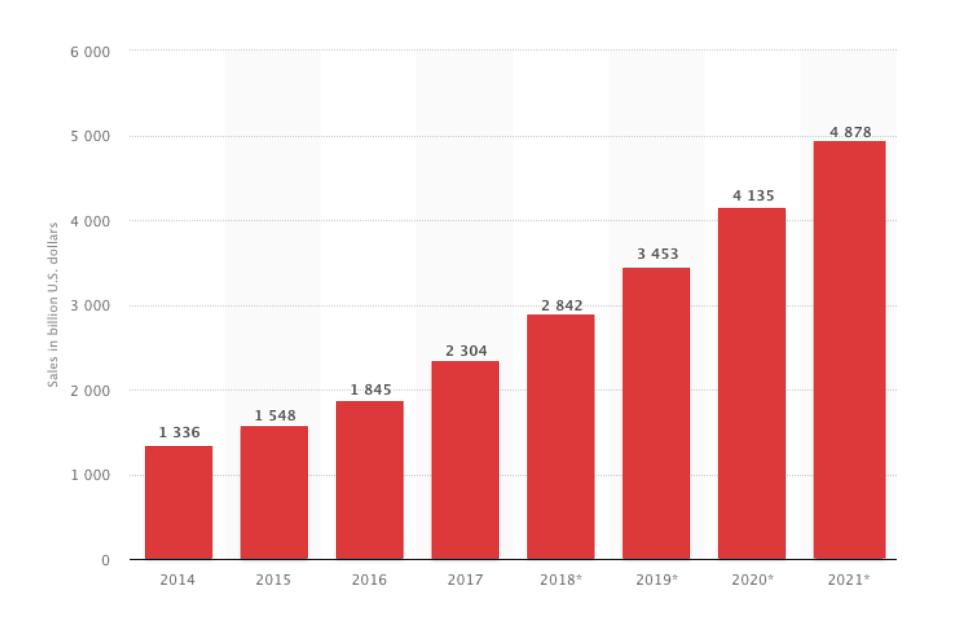 The hazards of bootstrapping CMS and e-commerce
A large number of websites start as content generating media and in the wake of rising in exposure and following, at some point the owners make a segway to the retail realm by adding e-commerce functionality to their essentially, CMS platforms. The websites that are not built for e-commerce may present a number of hazards. At the same time, the e-commerce-potent websites can embrace the CMS features at a cost nowhere near the cost of platforms switch or e-commerce engine integration.
There is a number of e-commerce plugins on the market, capable of attaching the shopping functionality to your website within a matter of hours. The problem with these plugins is they can't predict the behavior of an integration with a customized website.
Considering the fact that your CMS website might have been built by a freelancer or a web studio, it's important that you employ the same team for your e-commerce integration. Unfortunately, this is often not the case. More times than not, business owners end up bootstrapping the e-commerce features which are complicated enough by themselves to make it even more complex and obscure.
Integrating CMS and e-commerce might also compromise your business in the following aspects:
Security and reliance

. Stock third-party plugins are supported by independent developers that have no obligations in terms of quality support other than the moral ones. They can also decide to discontinue the plugin whenever they want.
User interface and user experience

. Providing a consistent experience through visual interaction with your website is a key to creating a trusted brand. Integrating e-commerce plugins cannot give you the options of using a custom UI within the logic of your website. This type of integration is extremely stiff and will not contribute to the sales boost.
Limited potential

. The choice of an e-commerce plugin may be dictated by your business specifics in a certain period of time. There is no guarantee an integrated e-commerce solution will grow and scale in conformity with the business. That means a limited set of options as a timestamp of the time the plugin was installed.
We offer an organic approach to merging the e-commerce functionality with the customer drawing power of a content management system. Custom e-commerce systems help avoid using the generic features by leveraging the industry and business-specific options, along with the interfaces and customer experience done within your branding landscape.
The advantages of a custom e-commerce solution development
Buying a subscription plan for an e-commerce engine is the fastest way to start selling, however, it puts your business within the margins of that engine. While being a plug-and-play option, it's going to be hard for an entrepreneur to consider the specifics of their business let alone introduce new trends. Your technical progress as of an e-commerce vendor will depend entirely on the functionality of the third-party-ruled platform you are on. Add to that the immense amounts of fellow sellers and competitors and the only option to leverage remains marketing.
What a custom e-commerce solutions bring to the table:
Only the features/components your business requires

. Without the need to enable/disable the stock features of a generic e-commerce platform, you can be in charge of the development of your own system's core functionality.
Integration with other business systems/frameworks

. A business requires multiple systems working in sync with your e-commerce solution. Typically, this means a lot of work to connect different systems which might compromise the performance of both, or the development of a system which will register with your business model.
Ability to influence execution

. Building a custom e-commerce solution means designing one as well. UX design has been the essential part of any digital design for the time long enough to nurture the expectations in users that we can't back off from anymore. Customer experience being a part of UX has to be flexible and reconstructable.
Distinctive image

. Brand representation is as important in retail as the sales are. The ability to design the e-commerce experience within your brand's image, voice, and tone is a competitive advantage when done right. Analyzing the existing platforms in terms of their visual appeal might teach us a lot about how better visuals can affect business performance.
Even being more time & cost consuming, custom e-commerce solution development can offer a variety of measures to help your business fulfill its purpose.
Enterprise license costs Vs custom solutions
While using a license for an enterprise web-based business eCommerce platform might come with a reasonable fee, there will be a number of integration expenses, upkeep costs, product support fees, hosting bills, and database services to pay, as well. Some of the major omnichannel selling enterprises may cost higher to license and yearly costs could undoubtedly achieve $100 000 or more.
Today's rise of application development frameworks, technologies, and infrastructure tools is a social movement. Given enough time to be integrated by the developers, these frameworks provide a foundation for further development. Considering the number of indie technologies with the cost of web services and add-ons varying around $1000/month, it makes perfect sense to invest in custom development using the latest technologies while they are still gaining momentum.
Webinerds e-commerce solution comparison chart