Whether you own a medical business or want to found a healthcare startup, if you're planning to create a healthcare app, first consider its business value and what it means in terms of profit and your efforts. It seems that while COVID-19 pandemics became the bane for the air travel and hospitality industry among many, it may turn out to be the boon for the healthcare industry and health apps, in particular, spurring the healthcare app development all over the world.
In this article, we'll look at the benefits of developing a healthcare app, growth possibilities of the mHealth industry, the market overview, its tendencies, and future possibilities. We also have a comprehensive guide on multiple aspects of healthcare mobile app development from the initial research stage to trends in technologies. Go check it out.
Is a healthcare app a good idea?
Scientists are yet to create the elixir of life. But there's something the world of today has that is no less fascinating — the modern medical technologies created by the healthcare software companies. Mobile applications for healthcare may act as an intermediary between the sophisticated high-tech and people with their everyday needs and routines. 
The internet, smartphones, and wearables have opened a new direction in medicine called mHealth. mHealth is a term that refers to the use of mobile devices and wireless technologies for medical care and ensuring a healthy lifestyle of a person. The most familiar example of mHealth technologies is multiple health applications for mobile phones and tablets related to staying fit or to the control of a person's physical condition (for example, weight). Although the mobile health industry is also about multiple solutions for medical professionals of varying levels of complexity. On the mHealth market, analysts distinguish several main segments of apps intended for diagnostic, monitoring, prevention, treatment, as well as medical simulators.
The mHealth apps market is growing by leaps and bounds. This huge industry is expanding every day and shows no signs of stopping, stimulated by the COVID-19 pandemics. The army of mobile application developers has grown dramatically, and the number of applications themselves is breaking records. The revenue generated by the mobile app industry has reached sky-high levels.
Looks like building a healthcare app is one of the most promising investments there is today.
Why people use healthcare applications
For millions of people around the world, smartphones and tablets already act as mobile diagnostic devices. Mobile medicine is used in the treatment of various diseases. It's a great way to maintain health and stay in good physical and mental shape with the help of technology, especially in times of social distancing. 
The increase in the number of people who use the solutions produced by the medical app development companies is a sign that people are getting used to applications that process their health data.
The list of major features provided by healthcare apps include:
Telemedicine
Mobile devices are changing the way patients communicate with doctors. The latter can now prescribe a course of treatment or a specific procedure using applications that provide video and voice communications. Certain apps can be installed on a patient's smartphone upon discharge from the clinic, allowing them to continue the rehabilitation process at home.
Information gathering
More and more people are using mobile devices to search for information related to medicine and health care, both patients and medical professionals. There are many specialized applications intended especially for medics, for example, like PubMed Mobile (a useful tool for the quick searches on PubMed — the leading medical database) or Procedures Consult (a training and reference tool that helps medical professionals prepare for, perform and test their knowledge of essential medical procedures).
Measuring and data monitoring
Using your smartphone, you can measure your heart rate, respiratory rate, monitor sleep, physical activity, and more and synchronize it with medical devices. As the survey by Gallup shows that 45% of the US population has tried some kind of mobile apps from the health and fitness category such as fitness trackers. And 20% have tried or are now using both fitness trackers and other medical apps.
Appointment and scheduling
A mobile application created for a medical center allows its patients to more easily keep in touch with the staff and a more convenient way to make appointments. Many people find it uncomfortable to make an appointment or discuss a diagnosis with a doctor on the phone. A mobile application saves them from this inconvenience.
Education and training
Some mobile solutions facilitate the work of practitioners, interns, and students of medical universities. Doctors have to remember an enormous amount of information. Mobile apps help them brush up on knowledge or learn new things. The most highly rated educational apps for medical students are Medscape Mobile, Human Anatomy Atlas, and Brainscape.
Health apps usage statistics
Consumers around the world are downloading and spending more money on medical applications than ever before.
According to

Statista

, the global mHealth market size is anticipated to reach $333 billion to 2025.

As stated in the

healthcare market analysis

by the Goldstein Market Intelligence, the global mHealth devices market is to grow at a rate of 38.6% a year in the coming years.

According to the

research

conducted by NCBI, around 68% of the population in the US own a health app on their mobile phones.
Healthcare app market growth drivers
More and more people choose to install healthcare apps on their phones. They seek for individualized control over the way they access healthcare. There are several major reasons for the expansion of healthcare app development:
Prevalence of lifestyle-associated diseases
Many such chronic ailments that demand constant monitoring, like diabetes and hypertension, are becoming more widespread.
Health care systems are getting more expensive. For example, U.S. health care spending is projected to grow at an average annual rate of 5.4% for 2020-28 and to reach $6.2 trillion by 2028. 
There is also a global tendency for a lack of medical staff. It is expected that by 2020 there will be a shortage of 1 million nurses in the United States. In India, only 150,000 medical specialists serve nearly a billion citizens.
The development of medical apps is also encouraged by the necessity to reduce long waiting periods to access healthcare facilities. For example, in Canada, nearly one-third of patients have to wait two or more months to see a specialist.
Growing penetration of smartphones
The number of unique mobile subscribers worldwide is predicted to reach around 5.86 billion by 2025. With the prognosis of the world population reaching 8.1 billion by 2025, it makes 72.3% of the future population mobile subscribers.
Technological innovations
Today, big data, artificial intelligence, and other technologies are driving the development of medical innovation around the world, allowing for a different approach to medical research. Innovations create conditions for breakthrough discoveries and increase the effectiveness of inventions that have the potential to improve the quality of healthcare and reduce increasing costs.
Medical professionals relying on medical apps to foster growth
According to Research2Guidance, 80% of physicians use medical apps to enhance their work.
Aging of the planet's population
According to UN forecasts, by 2050, 22% of the world's population will be retired. Older people are more likely to suffer from chronic diseases and need more medical care.
What hinders the growth of healthcare app market
Specialists from Allied Market Research in their health market overview distinguish the following reasons that can pose as a problem to the rising popularity and the further healthcare application development:
limited reimbursement coverage

insufficient technological awareness among the older population

a need for a more powerful IT infrastructure

a need for better management of data safety.
Mobile healthcare market tendencies
Data shows people are concerned with their health, both physical and mental, making classical fitness applications like MyFitnessPal and meditation applications like Calm and Headspace the most downloaded applications of the health and lifestyle category in App Store and Google Play.
There's a tendency of healthcare apps to become more varied. While about 5 years ago healthcare apps were represented in most cases by "lightweight" everyday solutions, like fitness apps, today we witness the rise of more sophisticated applications with a narrower approach.
Another important trend in world health is telemedicine. Soon, we can expect a rapid increase in the number of applications that allow patients to remotely contact doctors for recommendations and treatment.
According to Allied Market Research, the most popular devices concerning the mobile health market are BP monitors with the blood glucose meters segment showing the fastest growth rates. 
Among the services, the monitoring services segment is the most prominent.
mHealth market geography
According to the report by Market Research Future, in terms of geography, North America accounted for the largest revenue of mHealth technology providers in 2019, with the Asia-Pacific region leading in growth dynamics. This trend is expected to continue over the next few years (showing the highest CAGR of 25.7% during 2020-2026).
Europe is the second-largest market for digital healthcare solutions with a compound annual growth rate of 27.6%. The favorable factors are the appearance of more modern and advanced facilities, the advancement of medical professionals' skills, and the growing need for improvements in healthcare infrastructure. The fact that people become more aware of chronic disease treatment also plays its role.
The Middle East region and Africa are to show the least growth in this market mainly because of a lack of awareness and limited access to treatment facilities. 
COVID-19 impact on the mHealth market
The COVID-19 outbreak continues to devastate countries and continents with more than 18 million confirmed cases worldwide as of August 1st, 2020.
Although many of the mHealth solutions produced by the healthcare mobile app development companies, like telemedicine, have been there for years and decades even, only now, in light of pandemics, they received a stimulus for development. Business-wise, it means two things: first, the demand for healthcare apps will grow and, second, due to being somewhat neglected before recent events, there is still a lot of room for improvement and new and better digital products.
According to a recent survey and white paper released by Research2Guidance, the stakeholders in the digital healthcare industry are more optimistic about their future than others. Their universal belief is that the current situation will ultimately benefit their long-term businesses.
Because of COVID-19, the majority of people would now prefer remote health consultations to in-person appointments. It's not surprising then that telehealth is the most popular branch of today's mHealth industry, with 65% of respondents saying that these services will see the greatest impact. Pandemics also hold immense opportunities for the development of remote monitoring, self-testing, data analytics, and symptom checkers.
Fit-tech startups are showing promising growth rates too. Health and fitness app downloads jumped 47% in Q2 2020, as claimed by Sensortower. For example, Peloton, which offers bike and treadmills with a built-in screen for online workouts at home, is up more than 50% in a month. The Mirror company, which in 2016 invented an interactive workout mirror and has raised more than $70 million in investment for its app, has doubled its sales since the beginning of the pandemics to the point that Lululemon, the athletic apparel company, wants to buy it for $500 million.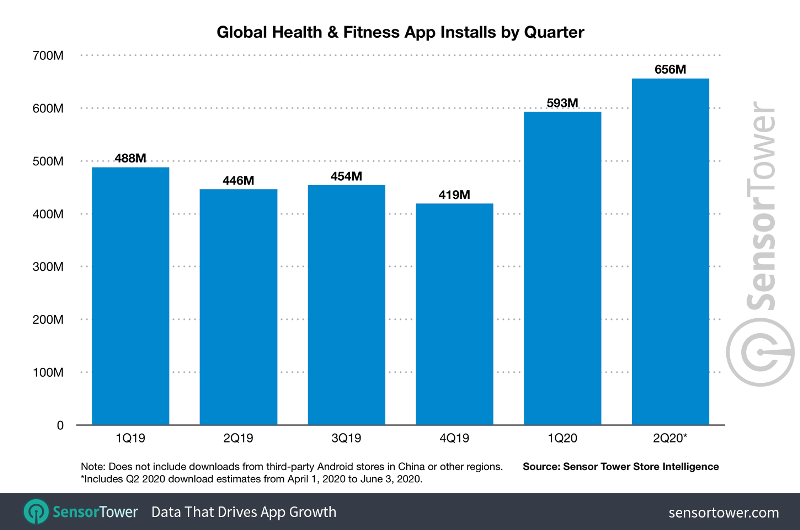 Who benefits from healthcare app development
Mobile health apps are useful for both doctors and patients. And although there are still some issues, it seems that they have a great future ahead of them.
Key stakeholders contributing to and profiting from mHealth market development:
payers of medical services (governments and insurance companies)

healthcare institutions (hospitals, medical centers, etc.)

medical device manufacturers and tech companies 

startup founders.
Invest in a healthcare app
Now is a great time to tap into the mHealth opportunities. 
Mobile medicine is becoming one of the main trends in the development of medical technology in the coming years. What's more, it has the power to make healthcare more innovative and accessible. Technologies have made it possible to radically change not only the healthcare industry, but also the approaches to diagnosis, treatment, and the fundamental rules of how people manage their lives. All of that makes mHealth one of the fastest-growing industries.
At the same time, it's becoming highly competitive as well. So where to start? Your next step is to determine the value of your future app based on who you are and who your potential customers are. You are a health care provider and want to have a tool to better manage your business? Or do you have an innovative idea that would profit from our new realities? There are significant benefits to creating a healthcare app for your business.
Approach it professionally and make use of the development and design expertise of an experienced mobile app development company. Tell us about your idea right now.
* * *
This article about the healthcare app market is the second in the series about the development features of apps for health and wellness. Next, we are going to cover the subject of what makes healthcare app development different.
Recommended articles:
Illustrations by: