Nothing in this world comes for free. There is always a catch or a profit. The same goes for mobile applications. Even free apps make money for their creators. They may not require people to pay upfront but use different strategies to attract more potential users and bring revenue in the future by offering subscriptions, bonuses, achievements, etc. That's why it is not surprising that free applications are more popular than paid ones. 
In 2022, about 96,8% of Android apps in the Google Play Store are free to use. So this is one of the key features of most products, and people expect it when opening an application. Let's take a look at these statistics, it shows the number of free and paid mobile apps in the Amazon Appstore:
At the same time, the number of paid applications in the App Store has dropped. Their revenue has also been gradually declining over recent years. Here are the statistics showing consumer spending in mobile games from SensorTower: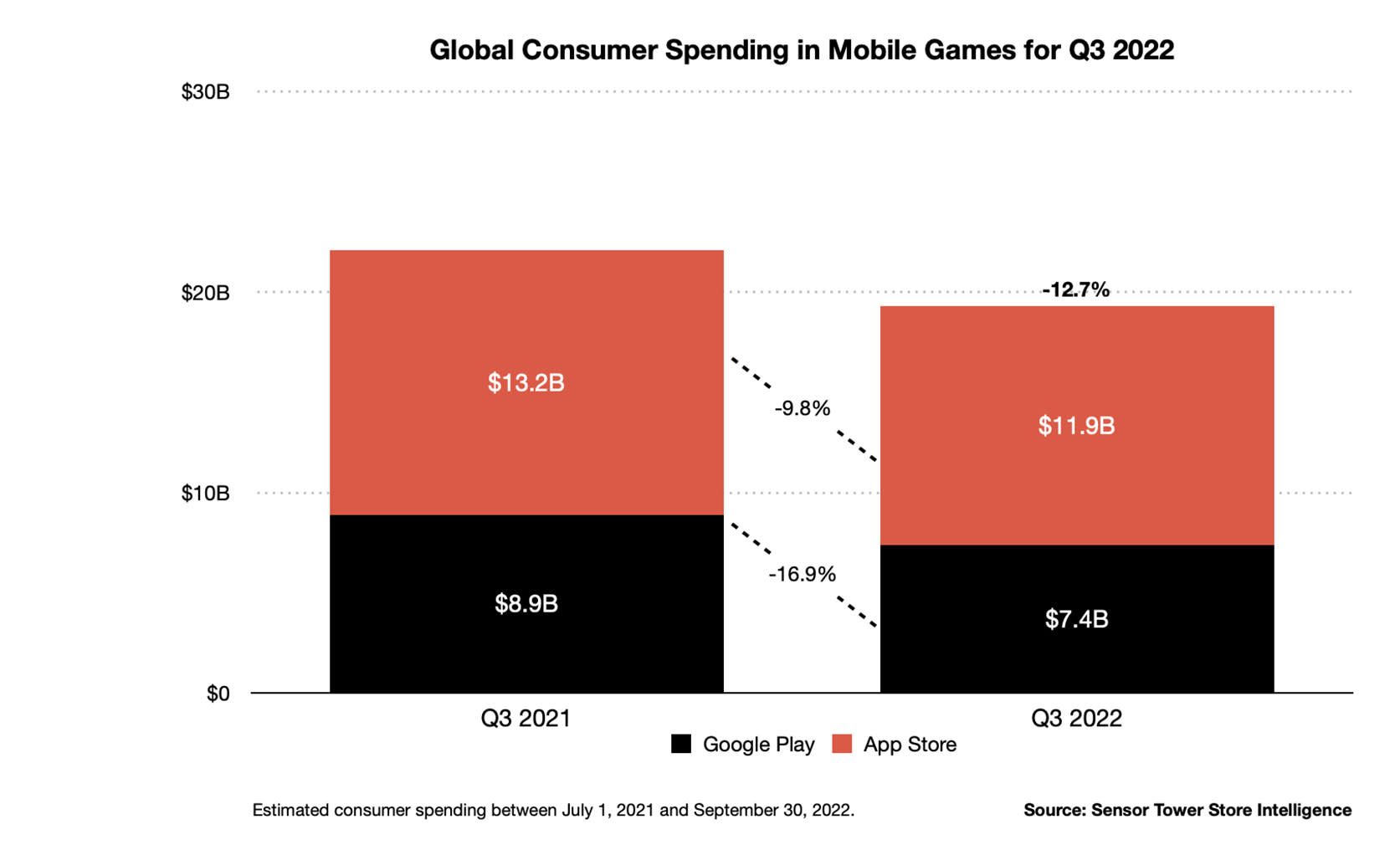 In most cases, people aren't accustomed to paying for applications they want to get. It's psychologically easier to get something for free here and now and deal with payment later or not to dwell on this thought at all.
Let's see how to monetize your free app and what the most popular app monetization models and trends are. You will also discover development tips and common mistakes.
The present-day TANSTAAFL
This catchy phrase, which is supposed to originate from a television advertisement of the 1970s, is similar to the well-known TANSTAAFL adage – "There ain't no such thing as a free lunch." 
That is to say, you can't get something for nothing. You should always give something in return.  Money, opportunity, favor, etc. 
The same goes for mobile app development — the costs are tricky, and in the real world, there's no chance for it to be free. One can make money with free and paid apps. It's just more apparent with the latter ones. A consumer makes a one-time purchase and starts using the product. In terms of free applications, things are much more complicated, with a collection of monetization methods coming in various shapes and disguises.
Base your business strategy on competitors
The key to any project's success is an in-depth analysis of the market and potential competitors. This way, you will stay in the flow of the feature trends, demands, and designs. What's more, when discovering free apps in the play store, you can find cool features that are poorly implemented or some nice ideas that could use some tweaking. So, it's a wise idea to improve them in your product. 
For starters, pick a category for your product. When selecting, base your choice on the target region. The sphere should also fit your developers' team skills, budget, marketing strategy, etc. The more utility the application brings, the higher its chances of becoming popular it will have. 
These are the top free iPhone apps in the USA at the moment: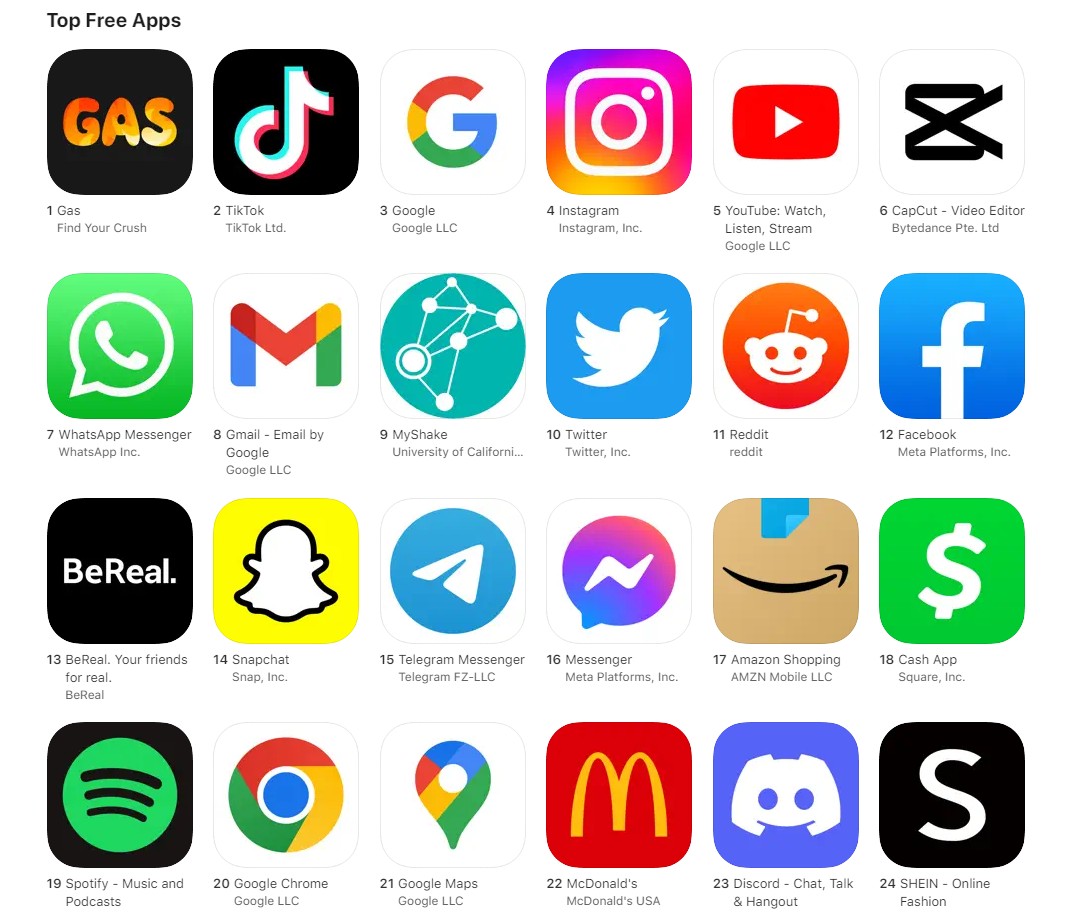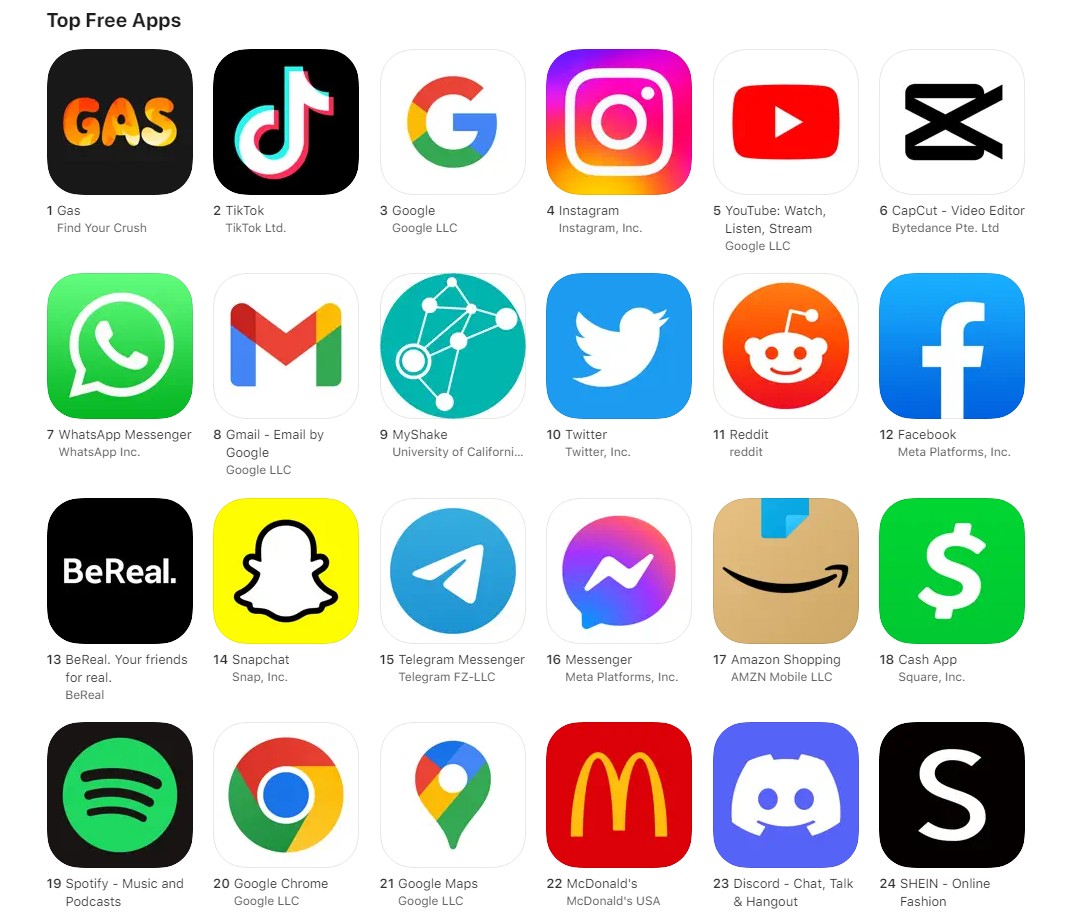 As you can see, they all provide high utility: chatting, listening to music, shopping, food delivery, video editing, etc. 
During the competitor research process, ask these questions:
What's the price of their app?

How do they make a profit?

How many downloads per day do they get?

What features does a competitive application offer?

Are there any positive reviews from real users?

Is the

UI/UX design

great?

What platforms do they appear on (iOS or Android)?
Based on this data, you will understand what your target audience is and their demands. Therefore, your product will deliver only useful options and can win a place under the market's sun.
The best
mobile app monetization strategies
There are several strategies and mixed approaches you can use to find out how to make money from free apps. We will dwell on the time-proven ones.
In-app advertising
So, how do you sustain a business model in which users don't pay for your service? The most straightforward and easy method to make your app earn money is to sell ad space. How does it work?
When you use a free app, for example, a mobile game, you can often see a banner popping out. It can be small or full-screen and suggests taking some action, like downloading some other game or checking out a sale. Whenever a user taps this banner, the owner gets some money. This sort of advertising is called in-app and is usually done via third-party services. Quite often, such ads are generated on the person's recommendations. If you often search for cats on Google, you might get advertisements about pet care. 
To make money from free applications, one can add different kinds of in-app advertising:
Interstitial ads

: a full-screen window that is displayed at a specific time. Since it covers the whole screen, this type can be irritating. However, people can close it by tapping a cross icon at the corner.

Banner ads

: an ad stripe shown at the top or bottom of the screen. They are small and non-intrusive, but often users can't close them.

Video ads

: they are often used in exchange for in-app rewards. A user can watch such a short video (5-10 seconds) and get a few coins to unlock a new game level.

Native ads

: look like a natural element of the application, for example, a small banner in a Facebook feed. However, their discreet looks are the downside — people just don't tap them at all.
It's better to stick to one or two in-app ad methods. Otherwise, people will be too annoyed. To be honest, nobody really likes ads: they may be rather irritating, and they are rarely seamlessly integrated into an app. They tend to show up in the least appropriate moments. But in fact, in-app advertising is going mainstream. In the last couple of years, it drove out the in-app purchases from the leading position among the most popular app monetization methods.
In 2022, mobile advertising spending is expected to hit $327.1 billion worldwide. This is 17.2% more compared to the last year. By 2024, spending will reach nearly $399.6 billion. So no matter what your attitude to the in-app ads is, you can't deny they're prospering and bringing huge revenues.
Pros:
Additional income through CTR

More chances to reach the target audience

Test user interaction
Cons:
Ineffective with a low number of users

Interferes with user flow

Some ads can be irrelevant to the app's intent
In-app purchases & freemium model
How do free apps make money with this method? Applications with internal purchases include all apps that are distributed at no cost but offer to make additional purchases when using the product.
The owner offers additional services inside the product. The best practice is to create a free-to-use application that provides additional goodies through a system of micropayments.
This could be a game currency or extra tries in dating apps – the opportunity to send an unlimited number of messages per day, etc. In other words, it should be something valuable at the moment that stimulates spontaneous purchases and increases overall utility. By correctly defining the target audience and its motivations, you are able to make income from such apps to be tens of times higher compared to the paid ones.
As for the freemium model, such mobile applications are free to use. However, some advanced features need to be purchased with real money. This strategy allows you to gather lots of new users and retain them. If they like the product, they can spend money on additional features.
Not all users are ready and prepared to give out money for using an app. At the same time, with a large active user base, one can get stable revenue from this type of monetization. Almost 48% of free mobile app revenue comes from in-app purchases. So this option allows businesses to maintain the good virality of the application and promotes other apps to the user base. 
Pros:
No irritating ads

Perfect for apps with gamification and mobile games

Allows to offer more advanced services in the application

Stimulates to use the app since a person spends some money
Cons:
Requires high-security measures because of the user payment details

People will expect more impact from using the paid features
Subscriptions
Another way to make money with free apps is through paid subscriptions. They can be monthly or yearly. The idea is to provide some kind of trial period with limited (or not) options. Usually, it's around seven days. When the time is over, the person can purchase the subscription and continue using the application.
Usually, there are several levels of subscription: basic, professional, etc. They provide different features that cater to certain parts of the target audience. This type of monetization is popular among music and video streaming services like Spotify or Netflix. 
Pros:
It's perfect for music or movie streaming services

Engages the pro-level audience with advanced features

Stimulates people to use the app longer
Cons:
You need to provide features worth buying

Demands constant updates and improvements
Affiliate marketing
The affiliate marketing model promotes a third-party product in exchange for revenue. It's based on the number of clicks or installs. 
For example, a mobile game provides additional crystals for installing or playing a sponsor's application. In this case, affiliate partners get additional advertising opportunities and increased sales, while the app owners receive rewards from sponsors. The only drawback here is that not everyone will install other products and spend time grinding the rewards.
Pros:
Loyal customers in the long term

Great way to promote the app
Cons:
Time-consuming activity

Requires additional efforts to create an affiliate program
E-Commerce
If you have a store or a website, then this is how you can make money on free apps. The mobile application will be a great means to sell your physical goods or services, like clothes, phone cases, toys, etc. Moreover, a mobile application may be associated with a product itself. For example, instead of using the TV remote control, you can use an app with that function. Such applications do not generate revenue, but the app itself won't bring revenue but will act as product bonuses, supporting the overall appeal of the brand.
Pros:
Online selling provides greater outreach

Flexible model, possible branding partnerships
Cons:
Requires complex e-commerce solutions

Needs great UI/UX for a smooth shopping experience
Sponsorship
If you are a startup, partnering with someone from the same niche is a wise idea. The partner should have a similar target audience. Also, they need to offer something useful to your users as well. That's why it's better to create a list of brands that might benefit from developing a free mobile app. 
A great example of such a partnership is Runkeeper and Google Fit. They collect and store the user's data in one place. When you do running with the first one, Google Fit will track your steps. Also, the info updates simultaneously in both applications.
Pros:
Exclusive content and special offers

Strong brand presence
Cons:
It's hard to find a trusted brand for a partnership
Combination of several methods
Usually, to get the best results, business owners use a combination of monetization methods. For instance, a video advertisement banner paired with in-app purchases. Or small strips at the top of the screen that turns off for money. Another great pair is subscriptions plus in-app ads.
To squeeze the maximum amount of profit out of an app, you'll need to combine several monetization methods. What matters is to understand how it all fits together. Test various ways and always monitor all the analytical data indicating how healthy your business is.
Common
app monetization
mistakes for
free apps
First and foremost, this includes overly aggressive advertising that, in large amounts, repels a user instead of attracting attention. But there are other, not-so-obvious mistakes to consider:
Choosing the strategy at the last moment.

Picking the course when the app is on the release tracks limits the number of options. The developer is forced to choose among only those methods of generating income that is adjustable to an existing product. Think about monetization methods in advance. It's much easier to just slightly adapt the

mobile application

and make it a more convenient tool for generating income.

Subscription mispricing

. Try putting yourself in the user's shoes and ask yourself whether you are ready to pay that much for the app. Evaluate the advantages of your solution, and analyze the competitors' prices. It'll give you a clear perspective of ​​what cost to set.

Ineffective advertising

. This mistake includes a demonstration of ads without taking into account the user data, too much advertising, untimely display, etc. To avoid these and other similar errors, try looking at the advertising through the user's eyes and understand when and in what quantity it will be favorably received.

Making money a beacon

. Earnings should not be the only stimuli for your work. Concentrate on creating an application that will be useful to the target audience.
Free app monetization
trends
Trends are changing day by day, and so do the monetization strategies. That's why it's crucial to stay up to date with the latest tendencies and implement them timely. However, don't try to build them in all at once: browse carefully and choose the trend that suits you the best.
The main ways of how to make money on free apps mentioned above will remain for the near future, with video ads continuing to conquer new grounds. What other ways are emerging on the horizon?
Playables
A major asset is creativity. Try implementing playable–game ads in a video format with a motivational message at the end. They are usually quite simple: match 3, drag& drop, and other logical genres. Such ads are funny and engaging, they are increasingly gaining popularity. So, gradually, more app owners use them as the main way of enticing new consumers. 
Put them in appropriate timings, with a similar intent as your own application.  
Artificial Intelligence and Machine Learning
AI is bursting into all spheres of mobile app development. In regard to app monetization, artificial intelligence can analyze enormous amounts of data in under a few minutes. It can suggest the best algorithms, methods, and ways to improve business growth. AI helps developers and publishers determine the app price, find the most and least engaged users, and fine-tune the ad-showing process. 
Thanks to machine learning, AI is constantly learning when dealing with user data, so it predicts their actions and desires. More importantly, AI can act as an impartial arbiter, run A/B tests, and generally make the UX simpler, clearer, and more useful for people.
Improving the user experience is especially important considering the fact the average smartphone user has around 80 mobile applications on their phone. More than 62% of those apps are not opened even once a month. People will delete an app without hesitation if it doesn't fulfill their needs and move on to the next one.
GDPR encourages the use of CMP platforms
The adoption of the General Data Protection Regulation (GDPR) was the judgment day for many mobile application developers. A solution to the problem can be ensured by the use of CMP (Consent Management Platforms), which accumulate user data and request their consent on their own.
CMP platforms are not today's invention but attracted special attention only after toughening the rules for the use of personal data.
5G Mobile Internet
5G is already here, with more and more people using it. By 2026, there will be 4,8 billion clients who use the new type of internet connection, Statista says. That's why business owners will need to provide immersive in-app ads with instant loading time. Such formats will be more engaging and boost the clicking rate because they allow the developers to integrate HD video advertisements. This trend is especially useful for mobile games and other engaging applications. 
Augmented Reality (AR)
AR is becoming more common in our lives. It allows businesses to make money with free apps based on e-commerce, for example, virtual fitting applications and make-up studios. However, AR can also be implemented into monetization for better revenue. Famous Pokemon Go offers users in-app purchases with special coins which can be earned while playing the game. IKEA Place is a free mobile application where people can check how IKEA products will look in their houses.
Learn to balance
Choosing the right monetization strategy is just one part of future success. To ensure stable revenue growth, you need to follow the latest trends and avoid common mistakes. Keep in mind that your product can be free to use and still provide income.   
In this case, it's crucial to find the balance between free and paid options. Run UX tests, devote time to competitors' analysis and observation and add constant improvements to the app monetization strategy. This method will help you make money from free apps without driving users away instead.
If you are looking for a development team to create a free-to-use app with advanced features, contact us. We will build an application that has well-thought-out monetization, UI, and toolkit.