People make a first impression of you — and potentially your business — in less than a second. That's scary. Most websites have just under a minute to commit to getting visitors to either stay or bounce.
When you have less than sixty seconds to convince a new user that you're worth clicking and chatting to, you better make it quick and painless, right? Not really. As it turns out, shorter isn't always better. If you want to stand out in a sea of ​​content and keep users on the page, long-form articles are the way.
What are long-form articles?
Long-form articles refer to content that is longer than the usual post. While a standard post is around 1,100 words, long-form articles are typically at least 2,000 words and often in the 2,500+ word range. The long articles are all about telling stories and engaging the readers.
Informative, more in-depth articles are more attractive and valuable than a standard 500-word post. Also, they are easily translated into evergreen material. Long-form content helped a marketer get nearly a quarter of a million visits in a single year for four websites with vastly different audiences. This is great for SEO.
But long-form content isn't just for marketers. If you have a website, you have the potential to make money from a well-ranked article. And when you use WordPress, it's easy to create long crowd-pleasers. In this guide, we'll talk about what long-form articles are, why you should write them, and what tools you can use to make the most of your website's first impression.
Is the long-form content for everyone? No, most people benefit from giving long-form articles a chance. We highly recommend that you test long-form articles on your site and see what happens.
Introduction in long-form articles
Lengthy copywriting has become a trend, thanks mainly to sites like Medium.com, the blogging platform created by Twitter co-founders Biz Stone and Evan Williams. And while this site didn't invent long-form content per se, it brought long-form content to the scene that relates to the digital realm and how that translates into a greater engagement.
Fewer words have been preferred for quite some time. The thinking here was that attention spans are so short, and potential clients are so busy that they simply don't have time to sift through page after page of text. They'd instead get a quick idea of ​​what's going on and then move on. Sounds logical, yes. But it is precisely against the very formal nature of content writing that the long-form reacts.
The long-form is an intense effort to bring creativity back into content marketing.
The average blog post from 2017 averaged just under 1,100 words. And that number is likely to continue to rise. Compared to 2014, six times as many blogs published posts longer than 2,000 words last year.
Does that mean the average article is now considered long-form? That depends on who you ask. While many would say anything over 1,200 words is long-form, that doesn't make it long form. Because the length of the content only makes up half of the image. The other half is in its — you guessed it — form.
The benefits of long-form articles in WordPress
CanIRank, an agency specializing in SEO, wanted to understand this apparent snowball effect. So they looked at the correlation between content length and organic rank. Their initial results turned out to be strikingly similar to other studies: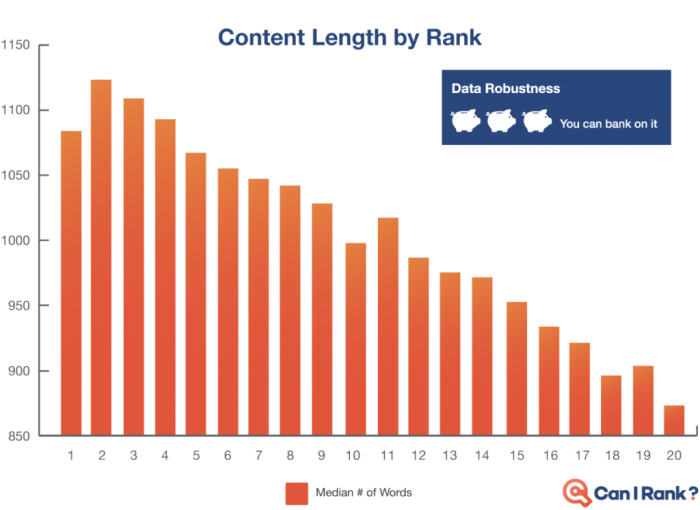 They theorized that the following factors could be the cause:
Larger websites on WordPress with more domain authority tend to publish longer content.

Longer content has more keyword optimization.

Longer content brings in more external links.

Experts who create content tend to write more relevant material.
Visually appealing
Long-form content isn't just long. It's also packed with visual stimulation, subheadings, and simple navigational cues to keep it informative but digestible. Other things that might disrupt the content are tweet boxes (as shown below) or even a table of contents.
These small touches make a significant and cumulative difference in the reception of a long text. The addition of visual stimulation is particularly powerful. Mixing visual content with high-quality, thoughtful articles transforms walls of text into excellent, mentally engaging obstacle courses.
Better for SEO
Many first-time customers don't fully understand the enormous role content plays in SEO rankings. Ultimately, quality content gets you to the top of the search engine results page (SERP).
What is content exactly? A basic definition you can find in both web development and marketing, but still needs to be expressed to an end-user.
Content is not just blogs or articles. It also includes videos, infographics, case studies, how-to guides, e-books, etc.
The Google search algorithm favors content that demonstrates a WordPress website's expertise, authority, and trustworthiness. Therefore, you should strive for it with your content. For example, outsourcing firms can demonstrate their expertise by writing blogs about new laws affecting their clients. Individual developers at these firms may position themselves as authorities in specific areas of web or mobile development.
Developing trustworthiness involves providing accurate information and being linked to other WordPress websites. Complete all three of these EAT elements, and your rankings will increase.
Providing expertise
Posting lengthy content is a great way to differentiate yourself from other companies that publish 300, 400, or 500-word blogs. They can also better serve a niche audience with some expertise on the topic. Don't forget that for your blog to work properly, you'll need a decent WordPress maintenance team that will launch and take care of it.
The biggest challenges with long-form content are short attention spans on the web and ensuring that what is written is of high quality. You may need to hire a professional to write it.
Higher quality
Better content can be created with the long form. How often have you come across a post that promises to be a "comprehensive guide" only to find it skimmed over a topic? Yes, that's pretty frustrating. It's also inevitable when sticking to traditional blog post lengths. Long-form content allows one to dig deeper into a topic, incorporating research and interview feedback. This allows you to be thorough with a higher quality of content.
WordPress tools and plugins for long-form article success
Yoast SEO

When trying to navigate SEO, it can feel like you never get it. Even if you're an SEO expert, it never hurts to have a little help. This is where the Yoast SEO plugin comes into play.
Image-enhancing tools
As for the first impression, a long loading time makes a wrong impression on recent visitors. Luckily, that's where an image compression plugin comes into play. This allows you to easily compress your images without sacrificing quality, resulting in faster page loading. 
Here are some image compression plugins for WordPress developers that we recommend:
Imagify 

Short Pixel Image Optimizer

Optimus Image Optimizer

WP Smush

EWWW Cloud
After you set up your plugin, it will automatically optimize everything you upload. These plugins will not affect your WordPress site's performance during compression.
Editorial calendar
69% of companies that market content relies on an editorial calendar to get organized.
Whether you're publishing as a solopreneur or with a small team, an editorial calendar will help you plan when, where, and how to publish your content.
Asana and Trello are both popular tools for WordPress development.
How to write killer long-form content
If you plan to publish long content on your blog, here are some tips to ensure high quality:
Understand your audience and what they are interested in reading

Use a narrative arc for your nonfiction book to ensure there is a sense of satisfaction at the end

Do a lot of research before you write and cite as many specific details as possible

Break up large blocks of text with headings, subheadings, images, or graphics, a

dd consistent UI/UX design

Don't forget to proofread and fact-check your content if you feel it is necessary

Anticipate what users need, so they are more likely to share your blog or link to your website in WordPress

That sounds easier said than done, but you want to produce quality content that will outlast the algorithm.
Knowing precisely what your audience wants can take time, but it's worth it when you can answer their questions with strategically placed content.
Every web platform has to be unique to appeal to the audience so that people would relate to it. Anyone who wants to scale their brand should look at such an opportunity by hiring WordPress developers. This is a great time to share information and experience in your field. Contact us, so we can lead you every step of the way.