This article about mobile UI's hottest graphic design trends is based on interviews with five experienced designers from the Shakuro team. Here you'll get the app design trends for 2022, why they appeared, and how to adopt them.
Why are UI trends significant? 
Apps appear and disappear without a trace and flash on the horizon. So what can you do to stay forever? As an app creator, what do you do to boost downloads from, make users love your app from first sight, and never cancel their subscriptions?
Keep up with app development and design trends, of course.
Step right up if you are a creator of a super-exclusive and ultra-popular application or an absolute monopolist in your App Store or Google Play category. But in all other cases, this article based on interviews with five designers is a must-read for you.
So why is it still worth following the 2022 mobile app trends when creating your application? Here are the main reasons:
With the trendy app design, you're on the crest of the popularity wave
Timeless relevance has been already outdated. Concepts are based on trends now. And trends are changing so quickly. The adaptation of large businesses is happening so fast — that not following the trend means falling out of the gigantic wave and out of popularity.
Blindly following a design trend is boring, but following it deliberately and wisely does not mean following the majority. Instead, you need to adopt suitable trends to the functionality of your design and use innovative tricks to be on the crest of the wave and meet the requirements of a modern user. Users can form a visual impression of your app in 0.05 seconds, so never forget that design is your key to the user's heart. 
Our clients often ask us to create something fashionable. They want something already fixed in the existing system design trends — they want to look reliable and familiar. They do not want to annoy or embarrass their future users with outdated or eccentric designs.
Going beyond existing trends is a rather dangerous gamble. The human eye quickly gets used to specific visual solutions, and you risk losing part of your users who regard the outdated design as an indicator of functionality. 
Convince users of the functionality
Whatever one may say, the design influences the most the initial decision to use or not use an app. It is your first impression that you won't be able to make it a second time. Therefore, no matter how functional your app is, it probably won't be attractive if the human eye scans your app and sees no modern and trendy design. Tendency applies to absolutely all categories of apps, no matter how popular they are. 
Stay in line with the leaders
If the majority notes a trend, it has already been happening for about a year or two. And it means it's already on its way to being outdated. But that trend itself suggests that many companies have appreciated its convenience, beauty, and attractiveness for customers. 
A trend itself is already one step closer to good design. If some vast, well-known companies have already tested it, they most likely have created visual code. A user suggests that an application using this design will be as functional and powerful as those giants.  
Before getting into the design trends, you likely need to go through an app development checklist, and then let's dive into UI.
Hot app UI trends in 2022 that you need to try right now
#1: Old-style 3D 
Origin: Large companies such as Facebook, Google, and Apple can launch any trend. They pour money into research and create new products, as Apple does. 
It is easier to show something more than to attach an extensive product description in text format sometimes. Here, you can successfully apply 3D graphics. Previously, this method was purely educational. However, now it is increasingly being introduced into the field of internet promotion. Thanks to new frameworks that have made loading a page or application convenient and straightforward, its active use has become available. It allows the user to enjoy a complex picture without tedious waiting.
Also, the popularization of this method became possible thanks to the development of augmented and virtual reality technologies. But why is it now one of the best UI trends that are getting more and more popular? There are several reasons for this:
Browsers are already so technologically advanced that they support all manipulations with 3D out of the box.

It is technically easier to convey energy, texture, and meaning through 3D because it is closer to our perception than a flat picture. 3D illustrations are deeper, more informative, and more interactive. 

The 3D industry also does not stand still, and now there are all kinds of software on the market for creating models, special effects, and a variety of content. It is now elementary to download apps on an iPad and create content by taking pictures of objects, stretching basic shapes with your fingers, or drawing with a pencil.
How to use: It is better to order custom graphics from a 3D designer to keep up with design trends. Or read our article about hiring an app development company that gets you right, and they will do everything for you. There are offers and paid collections on the market that you can safely use for your projects:
Premium 3D set of 85 fully customizable pieces:

ICONZ

The most extensive library with 3D icons and illustrations:

UI8

3D illustration constructor:

Superscene
 The danger is, every second app creator will use the same free 3D illustrations as there are a few of them for now.
#2 Mobile UI trend: animation of illustrations and icons
Origin: This is a fantastic technique from the heyday of cartoons that evokes an inner child of any user and adds comprehensibility to any topic, even the most serious. There are many beautiful illustrations in 2021. To make them more attractive in 2022, animate them. It is one of the leading design trends in 2022.
This trend applies not only to illustrations, but also to icons. Any small animated details in the interface, especially where they are appropriate, will be a big plus. SVG and JSON animation is generated by code. What are the advantages of this? 
Minimum sizes of animation files are tens or hundreds of times smaller. 

Smart settings help animation react to any interaction. 
You cannot do this without a programmer, but this does not mean that the designer cannot come up with animation and interact closely with the programmer or use animation tools. It's a cooperation between a programmer and a designer.
In any case, the trend with animation will develop, and it is mainly a team effort: product designer, UI/UX designer, illustrator, animator, programmer, tester. A designer can render an animation in any instrument and then pass it to a programmer.
+ Micro-trend of micro-animations
Origin: This trend probably came into the design world from the interface of Google, especially the logo below the search line, which is interacting with the user. And that's how the Tinder app uses icon animation:
As for entertaining apps, this trend is the best. So if you're ready to create something like Tinder, head here to know all about dating apps development. 
It is challenging to call icons' perfection a trend, as they have been polished to infinity as a mobile device trend after ages of use. But in 2022, it is incredible how the designers put correct metaphors into icons and make them interactive. As a result, they can attract more attention at the crucial moments or react to any action, which adds to the feeling of caring for the user. Plus, it's just a cool approach.
Why is it important? It improves the effect of human interaction. When you tap the button or scroll in the app, and your action flies away into nowhere, you don't feel the system interacting with you. And when it answers you with micro-animation, you think of the response to each of your actions.
It's not just designing, it's living the moment with the user. Pull down to refresh and see how it responds to you. It's a small thing, but that's what makes it different. This is an essential thing, which shows how deeply the interface is thought out. Through micro-animation, you can create the desired vibe or mood, or draw the eye to the right place on the screen and make it look fresh and fun.
Where to make animation:
A powerful tool that does not require the designer to know the code:

SVGator

A high-quality library with ready-made animated customizable SVG icons:

Loaf 

A library for Android, iOS, Mac, and Windows that parses Adobe After Effects animations and displays them on mobile and web:

Lottie
#3 App trend: turn on a dark mode
Origin: This trend became famous in 2019. At first, dark themes were only used in applications made to be used at night. 
Earlier users switched to a dark mode in the settings. In addition, some options allowed you to set a timer to switch modes. Today developers use this look and feel for websites as well. The leading brands that actively offer dark themes are Apple, Facebook, YouTube, and many more.
The dark mode is popular, as it:
Allows you to create accent color highlighting due to huge contrast with dark backgrounds

It makes it possible to perceive the content at a low level of brightness 

Provides economical energy consumption and prolongs the life of screens

It makes it possible to stand out from the rest of the apps
#4 Mobile UI needs all gradients, shadows, and blur 
Origin: The trend with shadows and gradients was in the past, but it remains relevant today. It came from the vast popularity of 2D graphics in the 2010s when it was necessary to underline the depth of a pic. 
The only thing that has changed is the appearance of more airiness, lightness, and volume. All this is mixed with pastel gradients and new trending 3D icons. Plus, designers now use more muted colors. Gradients have also evolved a bit and became more complex. It is no longer enough to use the linear gradient as before. You have to mix different colors and palettes and use an overlay. 
The color blur effect is increasingly used in interfaces, most often in backgrounds. It gives the interface depth and dimension.
#5 Mobile apps trend: real photos in an illustrative environment
Origin: the mobile UI trend of using real images surrounded by illustrating details, dates back to the first robust designs of the Apple company's website. This one from 2011: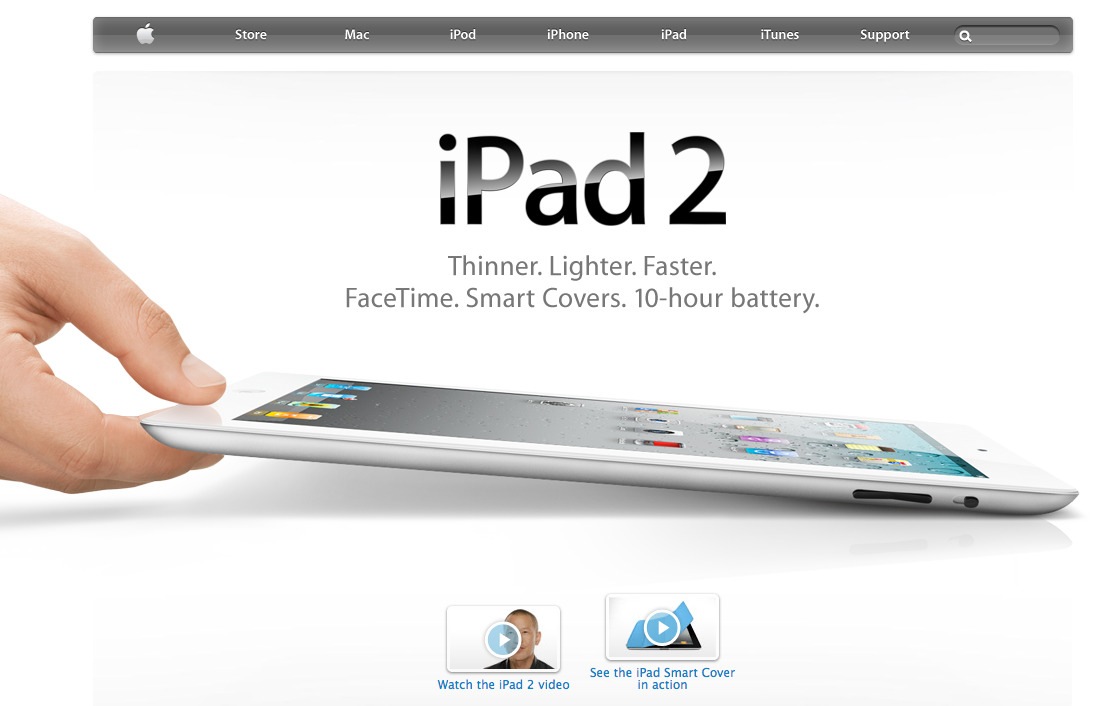 This design trend quickly immerses a user in the idea of an application. Actual photos of parts of the human body, for example, give the user an idea of the dimensions of the product shown on the screen.
A live image of food awakens the appetite. An actual photo of any object immediately makes the user's brain "jump" from the virtual world into the real one. And if this is one of the goals of your application, then this trend is perfect for you.
How billionaires design their mobile apps in 2021
Let's take a pause to contemplate the mobile design trends 2021 of ultra-popular apps. We will observe the most-used and super successful apps from various categories: health and fitness, shopping, dating, meditation, and mapping. I hope this will help you to get all we said before right.
Take inspiration from the best. You need to nourish yourself with the energy from the strongest. It is okay that everyone sees each other's work. Designers modify everything they do, improve it, and use it for new projects. However, to be on trend, you need to keep your finger on the pulse constantly. Look at powerful competitors. Always keep in mind that the design makes the first and most valuable impression on your potential user. 
Sometimes it is not worth remaking what people have been getting used to for years. Try not to destroy the native use of the application. It has already been entrenched in the minds of the public.
Final word 
So, what makes a good mobile app design?
Dedication to reality
This is what a design must have to be successful. Appearance shouldn't argue with functionality. If you want to do something expressive, think about the functionality. There are super concepts, and they certainly look cool, but often they are impossible to implement. A designer must take into account what can be done in a real app. As a design agency, we never make a picture out of the design that does not apply to reality. 
The perfection of really useful details
You can place accents not only with colors. What makes the design cool is not that you have a green-colored page that can be seen from space but how the end-user will use it. A good app interface with a well-designed heading and harmonious indents may not look so impressive, but it will be practical and pleasant to use. If we merely create an up-to-date and stylish-looking application, then it is not worth using. Create useful apps that will help your audience to solve their problems.
Orientation to the needs of the target audience
You need to create a design based on your future user image. The playful style will not suit a financial management application, and the dark mode won't be great on an app for kids.
This is the one hundred percent important thing for creating cool designs: the selection of design styles and trends for the needs of the potential audience. Do you need to update your app design in a few weeks? Or create an app with an excellent design from zero?
Just contact us to discuss your app idea.