Are you looking for the best CMS for your online shop website? Then, it's time to take control of all content creation components – from keywords to layout – with WordPress. You can spend hours on forums and chats of WordPress developers and entrepreneurs who have tried this Content Management System for their website. But we offer to dive into this tiny, yet full and honest review article to get all the info in one place.
The growth of WordPress hasn't stopped since its inception in 2003. And now it holds the first place among other Content Management Systems by usage popularity: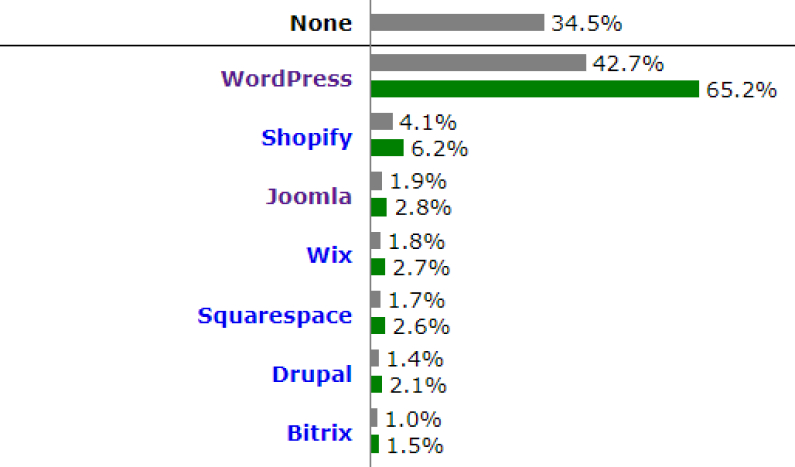 So what is behind the popularity of this CMS?
There are many reasons for WordPress's success. But if you're a marketer, and you aim to beat the highly competitive online shopping market, there is one that stands out: WordPress is the best for SEO. But let us make a full review of its pros and cons in this article. Carry on reading!
WordPress store builder key statistics
It is the world's most popular and widely-used content management system that powers 40% of all websites on the internet now. Isn't it amazing? It feels like this success is justified by the love of users. 
And WooCommerce, the e-commerce plugin for WordPress, powers 22% of the top one million e-commerce sites globally. So, it seems it is the ideal CMS for creating an online store, isn't it?
A large number of well-known websites use WP! Just look at some that we've mentioned here:
Advantages and disadvantages of launching on WordPress
Let's find out if the WordPress CMS has more pros or cons for building an online shop. By the way, we already mentioned nine advantages of WordPress, and here you'll also get its disadvantages.  
Disadvantages of WordPress
Longer loading time 
The WordPress CMS, namely the mass of add-ons installed, significantly loads the site's server. To avoid such a load, reduce the number of additional plugins to the lowest possible number, and, most importantly, use quality hosting. These subtleties will help you increase your website loading speed.
It is what causes WordPress to fail on free hosting. It is "gluttonous." And if you install a dozen plugins, it also becomes noticeably clumsy. And a slow site is terrible, especially if you're aiming to make an online shopping platform! Visitors won't love you. Search engines will also start lowering your rankings as soon as they encounter long page load times. So you have to work hard to make a WP site with "heavy plugins" as fast and responsive as you can. That's why we recommend entrusting website development to a developer team that will make customized decisions for your WordPress online store – and the result will be fast and responsive. Try to speed up your website as much as possible. And always keep ready to use Google PageSpeed checker for your online store.
Incompatible updates
This disadvantage stems from one of the main advantages of WordPress – advanced customization. We've already noted that you can stuff a WP-based site with plugins and beautiful themes from head to toe, but this will have consequences. For example, when one of the plugins is updated, it can bring bugs along with it, which will lead to errors. And if WordPress itself updates, then the website may lose compatibility with installed add-ons and themes. You will have to "roll back" to the previous version in an emergency mode in such a case. Or, better, to ask for professional help.
Lack of technical support
It is not a problem for developers and enthusiasts, but people considering using WordPress for their business will get frustrated. You'll have to solve all issues explicitly related to the CMS on your own.
WordPress advantages
Simple and fast start of your online shop on WP
It will take 4 minutes at most to launch a WordPress site. For a shopping platform, it takes more time, as you need to fill out the catalog with products. Installing a WordPress site on other hosting services other than WordPress.com can take a little more time, but the essence is the same. You can deploy a WP resource very quickly. Web design and development specialists at Shakuro point out that it is easier to develop and maintain sites on WP than on any other CMS. Even for beginners.
Moreover, since WP is so popular, there is a lot of information on it on forums and official sites. They explain in detail how to work with WordPress and solve a wide variety of issues.
Default responsive layouts for mobile versions 
It is a shame to own a website that does not have a responsive layout for mobile devices. WordPress has this feature by default . The basic theme is out of the box, ready to work with any resolution. Putting together a website on the WordPress engine, you don't have to worry about the online shop user audience with smartphones and tablets. Everything will look beautiful from the start.
The enormous number of plugins and themes available
To expand the capabilities of the template of your online shop on WP, you can install plugins. Many of them are free. If you want to edit the site structure, display, or style, you can hire developers to change the code in the template files and customize your shop .
There is an official database of plugins and themes developed for WordPress. Third-party programmers and designers create them, but that doesn't make them of lower quality.
Themes are often paid-for, and you can use them to replace standard visuals and make your web page stand out from the rest. 
SEO focus is crucial for online store creation
SEO managers also love WordPress because it is ready for the realities of online promotion. There are plugins like Jetpack and Yoast SEO which have 5 million downloads for now. They contain tools for content optimization, meta-tagging, keyword injection, and markup embedding. In general, they do everything to make search engines well disposed to a WordPress-based resource, showing it in the SERP more often and ranking higher than other sites. 
Without WP plugins, search optimization of an online store would take a lot of time and investment. Webmasters love it when a CMS does everything almost automatically and saves you unnecessary work.
Content independence for simple rebranding
Any material stored on a WordPress site is not structurally related to its visual representation as seen by the end-user. That is, you can entirely chuck the entire design, change the brand, abandon the previous style and structure, but at the same time, the data, pages, and product cards will remain in their places. Nothing will break or disappear. Reincarnation will not hurt anyone, no matter how radical it may be.
Open-source software
WordPress is an open-source project. Everyone on this planet can use WP code as they please. You can study, change, improve, or worsen it. The same goes for many plugins.
And most importantly, thanks to the fruitful work of programmers and the affordable installation of official updates, WordPress is sufficiently protected from infections, and the gaps that appear are quickly fixed.
This approach saves programmers a lot of money and time. You can find ready-made code to extend functionality. But what's more interesting, you can write some of your own. That is, you can add any functionality to your WP site with the help of a team of developers without any problems.
Is WordPress the best CMS for an online shop?
As you can see, the pros and cons of this CMS often overlap. The fact that it is free sparked its popularity and spawned such cons as lack of technical support. The openness of the code made it possible to expand the functionality but led to crashes after installing updates, the list goes on There is no perfect CMS, but now you know what to expect from WordPress.
And we believe that this CMS is the best for creating an online store – that is why we offer to make one for you. From zero to millions of sales – just contact us, and we will discuss all the details.