The food delivery market is now simply HUGE. It has reached an incredible size in the last two years, and now it occupies over $151 billion of the world economy. Sounds amazing! Do you want to know how much does it cost to build an app like DoorDash? Dive in further to get everything you need to create a delivery app in just 15 minutes! 
The vast popularity of delivery apps

Do you want to repeat the success of one of the most top-rated food delivery apps —  DoorDash? It had revenues of $6.58 billion in 2023 and has already delivered more than 900 million orders! In addition, DoorDash has a base of more than one million courier drivers. DoorDash is organized so well that its couriers deliver in an average of just 37 minutes, and the average order is $37! 
At the moment, this crazily popular company has 32 million users, with the vast majority from the US. The company has more than 60% market share in the country. Food delivery is an enormous industry that is taking over the economies of Europe and Asia. China is a leader in food delivery order numbers, and America is the second-largest market capture. It is estimated that around 96.9 million people will use online food delivery in 2024. 
How can you take over the world with your future food delivery app? Carry on reading to find out everything about how to create an app like DoorDash and your possibilities in this area.
How to make a food delivery app that will be popular?
Let's look through a list of food delivery leader apps:
Doordash — the online food delivery leader in the U.S. and a pioneer of the platform-to-consumer model.
Uber Eats — the most widely available service. Six continents!
Just Eat — the UK food delivery leader, it is also a part of Brazilian delivery giant iFood.
Grubhub — the app is partnered with over 300,000 restaurants in 4,000 cities.
Postmates — the app that is under Uber Eats' control since 2019 has 9.3 million active users per month, and they order around 5 million items a month.
So what do you need to stand out among such huge food delivery companies, which already occupy a considerable part of the market and have already earned colossal recognition and love from their users?
First of all, you need to concentrate on closing the main pain points of your future users. Think like a hungry shopper who, for whatever reason, can't go out for food – they have a hectic schedule, they're exhausted from work, or they just love home delivery. So what does this person who orders home delivery of food want?
Speedy delivery of their order
So what this person needs, first of all, is delivery speed. When a person decides to order food, they are most likely already hungry, and you need to ensure the fastest delivery possible.
Positive emotions from the delivery
The second point is pleasant couriers. The delivery process should be as easy as possible, without leaving any negative experience. If you can provide contactless delivery or friendly and accurate couriers for your customers, they will be delighted and will love you and your app.
The most comprehensive delivery coverage and food range
Of course, it is crucial to deliver where your customers are. So you want to have a vast number of partner restaurants and cafes to provide the maximum choice of food that your customers want. Here you will have to work with the sales department or the marketing department to capture as many as possible. If the last two points can be executed by the marketing and delivery departments, then the first point is your specific task as the creator of the app and its business model. So how to create a food delivery app that will differ?
Let's dive a little into the stunning world of delivery automation!
Automation of food delivery
Large international companies like Amazon are starting to use drones to transport small packages actively. There are a few options for you to consider if you want to beat all rivals with the most technologically advanced delivery option:
Courier robots
They are containers on six wheels. Such robots are not able to replace human couriers completely. Humans will complete routes that involve overcoming bridges, stairs, and other natural barriers in the city center faster. There is no need to produce complex and expensive robots. In this kind of delivery, you still have to rely on humans to control robots.
Drones
The future, where crowds of drones buzz around your house, land, pick up food, send packages – all this awaits us shortly. Architects and builders may need to rethink the overall design of a home to accommodate remote delivery. Thus, drone landing pads may appear, installed on mailboxes, roofs, or windowsill. Of course, drone copters have many advantages over human couriers: for example, they do not lose goods or argue with customers. And drones can efficiently deliver food wherever a car cannot reach. 
Now there is a lack of a legislative framework regulating the "relationship" between people and drones. And there are numerous limitations in the current technology: short flight range, low battery power, and the weight that the drone can carry. Now the developers are working on solving these issues, and it is only a matter of time. But getting some drones into your new delivery app team is a great idea! 
Four steps to make a delivery app

DoorDash began thanks to four enthusiastic entrepreneurs who took on literally everything from creating the application, accepting orders and delivery. To this day, it has been preserved as a tradition of this company that each of DoorDash's creators devotes one day a month to deliver orders with their own hands!
They served 70 restaurants in their first year of operation and received $2.4 million in funding, growing at a rate of 20% every week. They captured 55% of all food delivery orders in the United States for 2020-2021, exceeding the annual revenues of all other popular food delivery companies: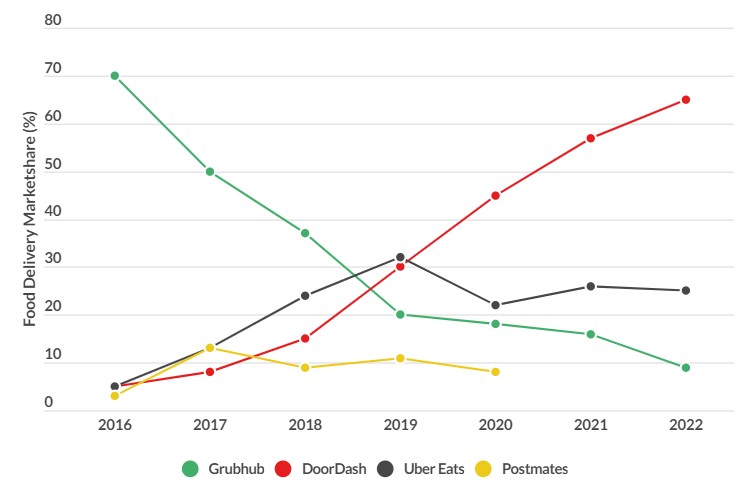 We studied famous representatives from the food delivery category and highlighted four basic steps to creating an app. After reading this part of the article, you will be ready to start a food delivery app from scratch, making it potentially very popular! You can also look through this article to know what to think about before creating your food delivery app.
#1 Identify the business model
When creating a service like DoorDash, you need to understand that a site and an app are just tools. First of all, you need to decide on a business model option:
Aggregator app

This business model works as a marketplace: a web platform where restaurants can specify menus and prices, and users can compare them and place an order right away. The restaurant handles food preparation and delivery. An app acts as a bulletin board and financial intermediary. It accepts payment from a user and transfers it to a restaurant.
These applications account for the majority of the market. The most popular aggregators are Grubhub and Just Eat. This app consists of two parts: for the user and the partner restaurant.
App with logistics support

Similar to aggregator apps, it allows shoppers to order food at different pizzerias, restaurants, cafes and helps with food delivery. New services work according to a simple scheme:
1) a client makes an order using an application
2) an order is sent to a restaurant
3) a restaurant prepares food and hands it over to a freelance courier
4) a courier takes an order to the client's doorstep.
This business model is used by Uber Eats, Postmates, and DoorDash. Launching such an application requires the same efforts as developing an aggregator application, plus creating functionality for couriers and their interactions with restaurants and customers: order acceptance, real-time chat, location tracking, financial calculations, and more.
Cloud kitchen

This scheme assumes working with kitchens that work on online delivery. They take orders online, prepare food, and ship it to the delivery address. Such web services also have coolly branded couriers. When creating such an application, you need to develop not only online service, but also restaurant equipment and hire the staff.
DoorDash business model
DoorDash is an app with logistics support. It has become a great solution for connecting people with the best dishes in their cities. They not only empower local businesses, but they also succeed in job creation, opening up new employment opportunities. 
DoorDash workflow
DoorDash users select the food they want from the menu and restaurant app list. The search includes many features, all making it easy to find what you are looking for. Users pay for their order, which is then received by DoorDash and sent to the corresponding restaurant, which prepares the food. The courier then completes the delivery process.
Couriers receive a delivery notification that provides details, such as distance and direction. They can accept or reject the order. Couriers do their best to shorten the delivery time. Clients may or may not tip couriers, which is 100% their choice. DoorDash has its own drivers called "dashers."
The company promises its customers a better experience, better prices, and efficiency. Restaurants don't have to worry about scheduling delivery logistics and are able to reach a wider audience. DoorDash also offers its consumers free pick-up options to save money and add a more convenient choice if the restaurant or shop is nearby.
What will your delivery model be?
Do you want to have a fleet of cars, drones, and scooters? Will taxi drivers and independent couriers do? Many cafes and restaurants deliver food on their own. Use a unique approach to attract such partners.
#2 Delivery software planning for a food delivery business
The coolly-designed and powerful application is not enough. There are four essential parts that you will need to develop, design, and make as convenient as possible for your partner restaurants and couriers, and of course, the end-user. In most cases, projects like DoorDash include the following elements:
Website

Administrative section 

Partner restaurant website

App for couriers

Customer food delivery app (iOS and Android)
Website
A website has the following functions:
Attracting users and new partners. A website attracts newly interested visitors through search engine promotion and other types of advertising. 

Ordering food from laptops and computers. It is much more convenient to choose food on the big screen in the office or at home. 

Posting news and helpful information. Notification of users about changes in the service and practical tips.
To know more about website development costs, head to our other blog article.
Administrative section
Every day, users have problems and questions. Sometimes there are conflicts or technical difficulties. All notifications, help, collection of business statistics, and communication with users are carried out through the admin panel.
Partner restaurant website (or a section on the main website)
It has a different design and website entrance. A partner gets the opportunity to do the following:
Add dishes with photos and descriptions to the menu

Change the price and make other adjustments

Add, remove, and change restaurant promotions

Receive real-time order notifications

Confirm or reject orders

View statistics and reports on their orders
Courier app or website section
It is necessary for organizing the delivery. It includes the following features:
Possibility to view active orders in the selected region

Possibility to select and confirm charges

Communication (text, voice) with a restaurant and a client on an active order, as well as with a service operator at any time

Map with GPS navigation and routing

Reporting
Application for users (the main one!)
It should be:
Easy to navigate

Informative. With ratings, the number of reviews, prices, payment features, etc.

Convenient for ordering. Without prior registration and with a minimum of actions

Attractive. The app should be stylish, recognizable, and evoke only cheerful emotions 
The main stages of work:
Concept development – main screens and links, navigation, and mind map

UX prototype. Creation of a functional model of the main screens of the application

Design concept. Drawing the main elements and choosing a color scheme

Drawing all screens. Detailed work on the design of the application

Programming. Coding and implementing all functions of the application

Maps connection. Routes programming and tracking the movement of couriers in real-time.

Integration of online payments. 

Instant messaging service.

Integration with social networks.
#3 App development costs for building a food delivery app
First, you need to find the right team of developers and designers who can fully implement your idea. Together with the developers and designers, you can discuss all the stages. We did a complete market analysis of the popular delivery apps and found the main areas where the development effort usually takes place and average hours and costs. When developing a food delivery app like DoorDash, you should start with design. At the same time, depending on the type of service (aggregator, logistics, cloud kitchen), you need to create several design variations for different user roles.

The design development process can be roughly divided into three stages:
Development of the layout — 25 hours: visualization of what your application will look like.

The embodiment of design — 45 hours: coding, working with images, photos, videos, and texts.

Design testing of technical and conceptual levels — 22 hours: user experience and usability.
When designing a popular application, it is essential not to go beyond the already created patterns of the user's visual perception and similar apps. Of course, you want to stand out from others and be as pleasant as possible to the eye and create some unique design, but following this technique, it is essential to always think about how the end-user will react to this. Look through hot design trends to use in your food delivery app UI in the other article.
Registration & authorization: 
Registration/authorization — around 30 hours 

User login/logout and profile editing — around 70 hours

Social networks and phone authorization — approximately 60 hours
Geolocation & monitoring:
All modern online food delivery applications use navigation. They track the position of the user and show the nearest restaurants, help track the location of the courier, and help them plan a route from the restaurant to the place of delivery, and more.
Geolocation — around 42 hours 

Route creation — around 50 hours

Courier monitoring — around 80 hours
Financial instruments
If the application is to accept payment or be an intermediary in this process, you will need integration with payment gateways. Use reliable payment gateways — services that connect a web service to several payment systems at once — Apple Pay, Google Pay, PayPal, bank cards, etc. This can save hundreds of development hours and lower the cost of developing applications.
Payment gateway integration — around 80 hours

Attaching and checking bank cards — around 45 hours
Notifications
Push notifications and SMS — around 30 hours
So, what we have in total: approximately 587 hours to create an app like DoorDash.
If the average hourly cost is $75, then mobile app development will cost around $44,000 by our very rough calculations. Plus, we didn't mention hours for communications and project management. It can take up to 200 hours for this project. Read to know even more about apps development costs in the other article.

Lifehack: how to make a food delivery app free of charge or with a small investment
For this, you can use an on-demand food delivery app template. The primary app template is written with ionic. This app template is a hybrid food delivery mobile app that is collected and laid out in an app store, and it has several limitations. This is a blank template, not a full-fledged application. You pay for the template, and then you customize it. Sometimes you need to launch something urgently quickly — a template may be acceptable for this. But this type of application will never conquer the market; it is merely a quick solution. If you want to become a competitor to DoorDash or Postmates, you need to develop the app from zero. To know even more about how templates and native apps are different from each other, read an article about React Native in a mobile development.
#4 Budgeting of the delivery app
How do food delivery apps make money? DoorDash has an option of paid promotion, plus the commission for every order. When budgeting for a project, it is important to remember that it is not enough to create software. The project also requires promotion and technical support. Therefore, it is necessary to take into account the following expenses: 
Project advertising (contextual, advertising networks).

Promotion (advertising of mobile applications).

Payment for a domain, hosting, or dedicated server.

Payment for placement in mobile app stores.
In addition, it is necessary to periodically update mobile applications: make corrections, expand functionality as the project grows, eliminate critical errors, etc. And these types of work must also be included in the cost of applications in advance. Do not forget to monitor reviews from users and bring the problems and shortcomings identified by them to the work plan.
Final word:
why is it a perfect time to make an app like DoorDash?
In this article, we have tried to summarize the main stages of creating a food delivery service. It is simply impossible to describe all the nuances in one article. And you need to prepare for a large amount of work and challenges. The world is going through the most challenging times associated with the Coronavirus pandemic. However, this experience has changed people's attitudes to many things, including delivering delicious restaurant food to your home. Given the ever-growing obsession of humanity for fast and easy technological solutions, there will never be an ideal time for creating such an app. The further we move, the more globalization and technologization of all processes will overtake us, the more the need for such an app rises.
In this business, there are still unoccupied niches and new opportunities to create something unique that will take over the world and rattle in the news. If you are ready to create a food delivery app, just contact us, and we will make a plan together.