There are many things a website could do from a business perspective. You can showcase your products and services, find new customers, establish your place in the industry, use it for a more comprehensive marketing strategy, and even make yourself and your product look more professional and credible. Entrepreneurs and their priorities are different. What unites them is the desire to find the most cost-effective solutions for their businesses. That's why the majority of them, in search of a clearer picture, want to find an answer to the question of how much it costs to build a website and what web development costs are made up of before making their first move.
We decided to devote this article to exactly this subject of custom website development costs based on our experience as a web development company, figure out why prices differ, and what the average website costs are depending on its type.
What affects web development costs and why won't anyone give you definite figures beforehand
Usually, in search of information on how much it costs to make a website, people want to know what to expect and be prepared for. The problem is, when perusing the web, you'll most likely get results vaguely falling into two categories:
no prices at all

prices are definitely too low or too high.
It's frustrating to get only words when you want to see figures, but it might be even more harmfully misleading to get the second result.
Why is this so? Why won't anyone give you a definite answer to your question? The thing is, like any other product or service, a website has no value by itself — you don't pay to get a website as such. You pay for what it can give you. As mentioned in the intro to this article, the point is in the website's potential.  
Imagine that you want to buy a new car. What factors are going to be important to you? Do you want it to be electric-powered? Do you need it small or large? Does its look matter to you? Does a car company's reputation have any meaning to you? What makes a car comfortable for you? Do you plan to use it for work? And so on.
And then picture somebody asking you how much a car costs. As you might imagine, you cannot give any definite figure without knowing the details. Salespeople make their living by finding a bridge between your possibilities and desires (great ones can find out what you need even if you don't know it yourself) and what product on the market suits you best.
When you want to use web development services, things are even more complex. A website is not an "off-the-shelf" commodity product, you are buying a solution to help grow your business. And costs to develop a website are going to be very different depending on what kind of tool your business needs. 
Another reason for website development prices being so different is that there are several main ways to create a website:
Do everything by yourself, including designing, coding, and modifying a website, from layout to support.

Make use of one of the website-builder solutions like WordPress.

Choose custom development done by

professional web developers

.
There can also be intermediate options where the main ones interconnect. For example, you can create a custom website from scratch but use a WordPress theme for the management of its (lower priority) blog page to cut expenses and speed up the process.
In other words, the main factors that affect website development costs, include:
website size (number of pages)

tech stack

the necessity for custom graphics and animations

complexity, i.e. the necessity to develop and customize certain features
plus
external factors like the market of web development agencies, their rates, locations, and capabilities. 
For example, we at Shakuro, like the majority of web development companies, offer two pricing for our services: hourly rate and fixed price. Which one to choose for a particular project depends on how much work has already been put into it. If you have an idea but not much else, the hourly-rate model is likely to be a preferable option thanks to its flexibility. And vice versa, the more has been done already, the easier it would be to give you a definite price and harder to go beyond the budget limits.
Consider web development a trade that involves skilled labor, however simple a website might look from the outside. Web developer's hourly rates range somewhere between $15 and $200 an hour depending on their skills, the amount of specialized work you ask them to do, and their geographical location with the latter being one of the reasons for the popularity of the outsourced web development. 
Professional web development costs money as any other professional service does but it's worth it. There are cheaper alternatives like creating a website all by yourself, and it's totally doable, there are plenty of guides on the web. But it's going to take a lot of time, time taken from other areas of your business. A professional web developer who knows their trade inside and out is going to spend dozens of times less time performing certain tasks compared to an inexperienced person. Also, a DIY website might end up looking amateurish in comparison to more sophisticated solutions. Looks mean a lot and professional web designers know the guidelines and constantly research new design trends to ensure their work is modern and liked by modern consumers.
Web development process: web development costs are more than just about development
To help you better understand how professionals estimate website development costs, let's go through the main stages of web development — how we do it at Shakuro.
Research 
We start by defining your target audience, their needs, and pains, and analyzing your competitors and other aspects of your business environment. It makes it possible to adapt the future website to the market expectations. One website can be suitable for several purposes at once. It's crucial to correctly determine what to aim for and, on the basis of this information, plan the rest of the stages.
Design 
The terms of web design and web development are interconnected and many people use them interchangeably. In reality, though, they are different, albeit related, concepts. 
Web design means planning and creating the flow and visuals. This includes the development of the site layout, the structure of web pages, the user interface, navigation, the choice of color combinations, fonts, images, animations, and other graphic elements. The cost of website development also depends on how many custom graphics are going to be used, if any. The design process has a few complimentary steps, which include illustrations and branding.
Illustrations
Illustrations are a part of web design and can be made either in 3D or 2D. Custom artworks help digital projects become more informative and more interactive. What's really cool, is that they make users feel: trust, warmth, even the "uwus". And feelings evoke bonding, necessary for all businesses alike. Of course, individual artworks make development costs somewhat higher, especially if you order animated pictures, characters, and mascots. But overall, the outcome is worth it. 
Sometimes, illustrations and graphic design get mixed up. The difference is that illustration may be a part of graphic design and the latter is a much broader concept that involves different aspects of marketing, art, and technology. As for illustrations, they are a separate part of design, and not just pretty pictures or adornments. 
Information with images is remembered

55%

better.

Facebook posts with pictures get

2.3 times

more engagement.

Tweets with images get

150%

more retweets, unlike those without.
Branding 
All successful brands have one thing in common — personality. You can design a brand to be friendly, broadminded, optimistic, and memorable. This is what branding is for. The scope of work for this part of website development includes:
Brand strategy

Logo and identity system design

Name, voice, and messaging

Brand style guide, and more
The branding process empowers the company with a strong visual identity and a special personality. For example, not so long ago we made a landing page concept for Halo headphones which included all of the above. Visual identity sells the product and the company. It's the meat of the product, whereas web development is the bones.
The point of web development is to write code for a website to function. Web developers use integrated development environments, programming languages, and frameworks ​​to build a fully functional website based on a project created by designers. Web developers are divided into two groups: front end and back end.
Web design means planning and creating the flow and visuals. This includes the development of the site layout, the structure of web pages, the user interface, navigation, the choice of color combinations, fonts, images, animations, and other graphic elements. The cost of website development also depends on how many custom graphics are going to be used, if any.
The point of web development is to write code for a website to function. Web developers use integrated development environments, programming languages, and frameworks ​​to build a fully functional website based on a project created by designers. Web developers are divided into two groups: front end and back end.
Front end
In simple terms, the front end is the development of functionality and user interface that run on the client side of an application or website. This includes everything that a user sees when opening a web page. Front-end developers collaborate with designers to create a product that would be used by real users.
Frontend development includes knowing how to work with such technologies as HTML, CSS, JavaScript, React, and Angular.
Back end
The backend is the software and hardware part of the service. It is a set of tools by which the logic of a website is implemented. This is what gets hidden from the user's eyes, that is, it happens outside the user's computer and browser. For example, as soon as you enter your query on the search engine page and press the "Enter" key, the front end will end and the back end will begin.
A back-end developer uses whatever tools are available for them. Usually, it's one of the universal and popular languages like Ruby or C#. NET. In addition, back-end development involves dealing with database management systems like MySQL, PostgreSQL, MongoDB, etc.
Quality assurance, release, and support
As it's not enough to simply "deliver", we make sure that everything works as planned and that our clients are satisfied with the end product. Every link, every form, and every script must be tested. Once we've checked and rechecked your website, it gets uploaded to the server. 
Website support and maintenance services are optional but we are always happy to help our clients to keep up the results we already achieved and make them even better.
So, all in all, when you determine the website development costs, everything boils down to who is going to do it and how much work is going to be performed. 
Web development costs depending on a website type
If the first factor that affects the price for website development is who you are going to choose as your services provider, the second one can be roughly defined by the type of website you need. Please note that all the following figures are approximate and calculated based on averages taken from our experience. Also, these are the website estimate costs concerning (mostly) custom development.
Business website
It's hard to imagine a business without an accompanying website now. Even a small business (especially a small business) needs a web page to represent itself in order to be taken seriously. Usually, a business website is a site designed for a certain company (anything from a lawyer's office to a fitness center) with the aim of promoting it and providing necessary information to (prospective) clients. 
It mainly consists of 15-20 pages including a homepage, an About page with company contacts, and pages dedicated to showcasing the products and services. In other words, it's a reflection of your business and its offerings. One of those business websites is shakuro.com — the one you are currently on.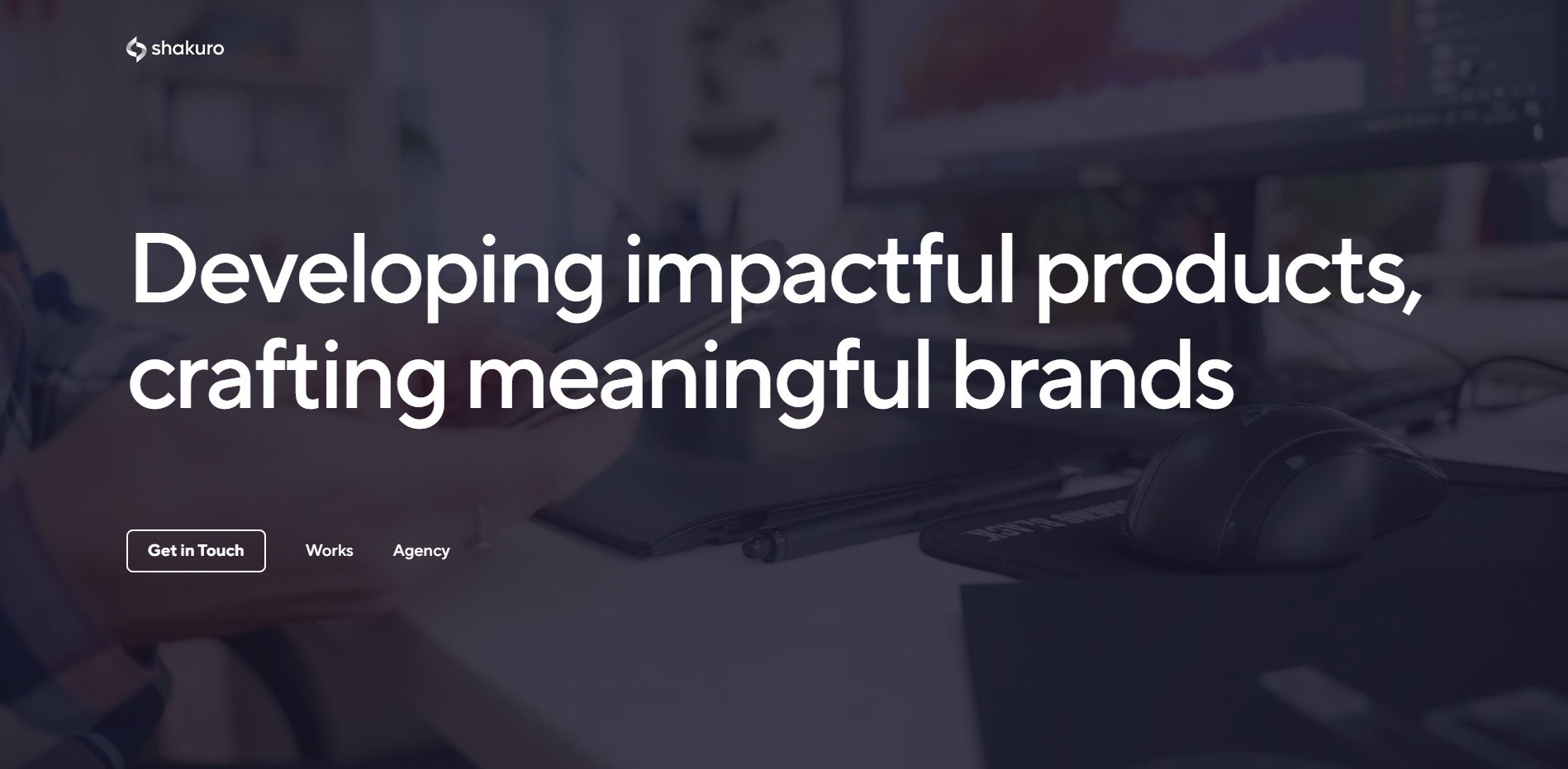 To create such a website, it'll take about: 
150-200 hours for UI/UX design

150-200 hours for front end

50-200 hours for the back end

40-60 hours for QA (testing) and PM (project management).
If we take our average development rate at about $55/hour (which consists of $40-50 for web development and $60-70 for design), we get about $21 000-$36 000 as a cost of a business website.
E-commerce website
This is basically an online store with the main function to sell products and services online. It differs from a business website in a way that apart from informational pages, this type of website consists of category pages and product pages, it has a virtual shopping cart and check-out functionality.
You have two main options if you want to develop an e-commerce website. A more popular, easier, and quicker one is to use some of the open-source solutions like WooCommerce — an open-source e-commerce plugin for WordPress. It's a viable option if your store is common in nature and the business is small and doesn't operate on an innovative approach to business and sales. 
So, to create such an e-commerce website with the help of an open-source plugin, it'll take about: 
120-150 hours for UI/UX design

150-200 hours for development

30-40 hours for QA and PM.
Resulting in about $12 000-$16 000.
If, on the other hand, you need your website to feature something above the standard flow and user experience, you can multiply the previous e-commerce website cost by 2-4 times.
Promotional page
A promotional page is a simple website whose main task is to bring a new brand, product, or service to the market and provide a minimum of information. It usually consists of one web page where you describe a company, a product, an event, or any other notion without going too much into detail.
To create such a website, it'll take about: 
40-80 hours for UI/UX design

40-80 hours for front end

10-20 hours for QA (testing) and PM (project management)
With a one-page website cost resulting in about $3 500-$7 500.
Landing page
A landing page is a page that allows you to obtain information about site visitors using a contact information form. It usually consists of a small number of elements such as a call-to-action, a description of the offer, and a form to fill out. The main idea is not to ask potential customers for too much information when filling out forms, and to not provide them with too much text. Usually, the main goal gets determined (order, registration, request, etc.) and everything else is based on it. A landing page (if it's a separate website) can consist of one or several pages.
To create such a website, it'll take about: 
80-160 hours for UI/UX design

60-120 hours for development

16-32 hours for QA (testing) and PM (project management)
With the web development prices being between $6 500-$13 000.
Interactive media website
This type of website focuses on providing content in the form of texts, photos, videos, or other similar content material. The content is dynamic, i.e. it changes regularly. It can also have a subscription option when the content above a certain amount is available only to members with a subscription. Websites of this type usually feature simple and minimal layouts to avoid taking visitors' attention away from the main point — content.
To create such a website, it'll take about: 
100-160 hours for UI/UX design

240-300 hours for development

50-70 hours for QA (testing) and PM (project management)
We get about $15 600-$21 200.
Once again, all the figures above are approximate and are likely to change both ways taking into account the features and requirements of a particular project.
Strengths of custom web development
A few words about custom web development and why to choose it. The major choice between custom development and ready-made solutions is one of the first ones a person makes when thinking about developing a website.
Custom web development is creating and customizing software to match the needs of a specific business. If you compare it to clothes, then ready-made solutions are like one-size-fits-all pieces and the piece of clothes of the right size at the most, and custom development is like a professional tailoring an existing piece of clothing for you or creating a totally bespoke thing from the start. And of course, it's going to cost more and it might look like there's no need to pay more when you could be satisfied with less.
It's true that when starting out a business, many entrepreneurs do it with out-of-the-box solutions that are free or cost very little. Sometimes it's the only option you have when every penny counts. However, you can't launch a website and expect that it's going to remain up-to-date forever or even for long. Web development is evolving providing users with better functionalities, security options (even small business websites are prone to cyber-attacks), and various features. Your business is evolving too. If you use your website for commercial purposes, it's going to be hard to attract new customers and keep the existing ones without making regular updates and introducing new features, and enhancing the user experience. 
This is what happened with one of our clients — CGMA, an online art education platform. When they started, an open-source solution was enough for them. Later though, when they started to grow, an off-the-shelf solution was no longer able to cover their needs, so they turned to us to help them expand using the perks of sophisticated software created solely for them. One of our specialties is exactly helping companies to stretch their wings and enter a new level of competition.
Want to learn more about website development costs?
The part you see on any website is only a fraction of the entire thing. Billing, payouts, customer service, infrastructure provisioning, lots of other stuff… it all adds up quickly. If you're not prepared to deal with messy behind-the-scenes design and development as well and get into the details of how to add new functionality and why the entire thing crashed after you did it, it might be better to have a website built for you by a professional web development company. This way, it's easier to get a website that you can be proud of and that correctly represents your business.
Don't rush the process of web cost estimation, approach it with care. Contact us for details and help.