Digital perfection of your everyday life? That's what app users want from a lifestyle application! That's why they download such applications more and more every year! That's why, in this article,  we're diving into an App Store lifestyle category research and ideas.
Lifestyle apps popularity 
You can be the one who'll create amazing helpers to make each user's life better.
Take a look – this app category is in the top five on the App Store: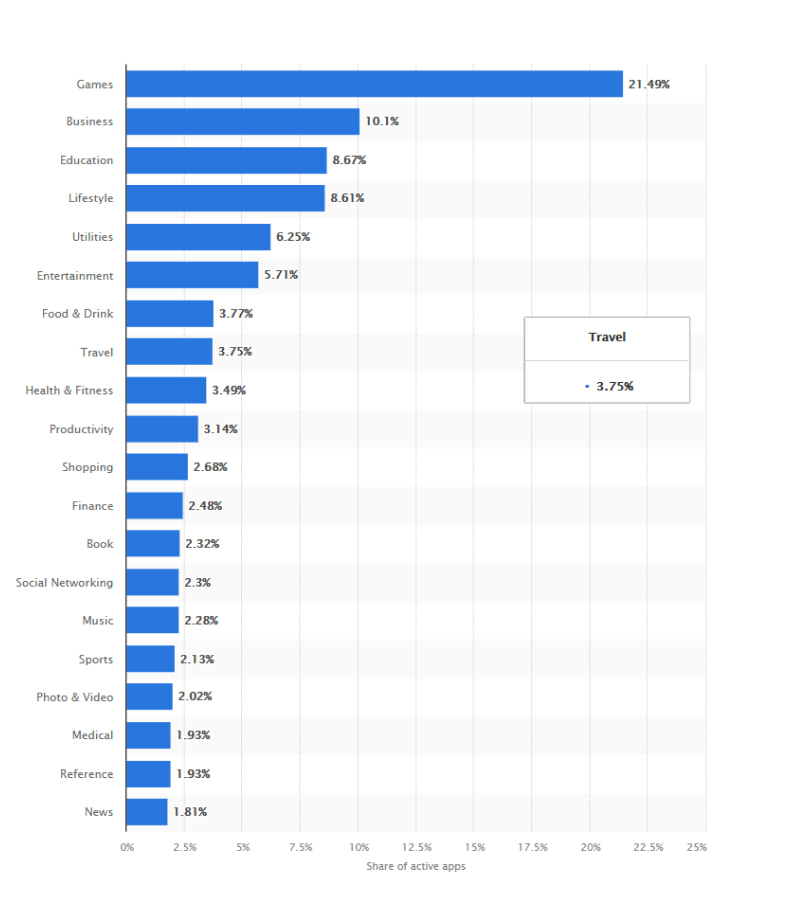 By the way, check out mobile app ideas for Business and Education categories. They are in the top five popular on App Store too.
Considering the rapid growth of the mobile market and the average life expectancy of one application, which is about a year, it becomes more and more challenging to create a successful and widespread application. So it is better to enter the market with an exclusive and powerful idea.
In search of new ideas and their audience, statistics and analysis are a creator's best friends!
To get a complete picture, statistical and analytical data is best collected at three levels:
Information about the technical infrastructure in the world and specifically for the country you'd like to create an app for. It will help shape the vector of product development and help identify trends that are potentially applicable to your idea.

Information about the mobile apps market to form a vision of the specifics, the necessary elements of the future application, and the strategy for its promotion.

Information about the application market in the lifestyle category to assess the prospects for promotion, to see the mistakes of other players.
Key indicators of lifestyle mobile app usage and revenue
Statistics show that downloads of the top-grossing apps in this category are massive. If we estimate the average number among the top ten apps, it will be 226,000! That's such a cool indicator to try this category out!
What are the lifestyle apps types to choose from? There are dozens of different types according to the manner of use and the topic. The most popular are: Dating, Food, Music, Travel, Parenting, Hobbies, Habits, and Smart House. Just look through the category list to see that you can implement almost any idea that will help make users' lifestyles better.
8 brilliant ideas for lifestyle app startups that will be successful in 2021–2022
Here are some exclusive and viral ideas for you to get inspired and create an app that your users can't live without.
Application for weddings
It's a good idea to combine everything you need for weddings in one mobile application. It's a difficult task to organize a wedding for the first time. How to choose a dress? Where to order flowers? Who is going to organize the banquet? How to rent a limousine? Who knows a good photographer? Where to go on a honeymoon trip? And also invitations, glasses, hall decorations, THE CAKE. A nightmare! A thousand little things that happy lovers did not even know about a week before!
But good money is made in the wedding business. Photographers, florists, ateliers, car rentals, and tour operators are some of your potential app advertisers. Continue the list on your own; it is huge and runs the risk of taking up the entire article.
Parenting app
At the same time, apps to help raise children are an unrealistically saturated market. Parents' needs change rapidly – children grow out of diapers, clothes, bicycles. Then it's time to study, and again parents fork out.
Health check and meal planning app
This app checks your health on a daily basis and offers you the right nutrition that you need to stay healthy. It provides you with the many health food recipes offered by professional blogger chefs. You can customize the content delivery to suit your health. For example, if you have heart problems, an app will recommend recipes made with heart-healthy ingredients. You can partner with grocery stores to deliver healthy products right from the app.
Shopping mall navigation map
A shopping center digital navigation map stores a digital map of all shopping centers in the area and can be used to navigate the shopping center as well as show how to get there. This is especially useful for large shopping malls. The visitor can find the exact store or even check the type of a restaurant, a parking spot, or the size of the crowd in a mall using the app.
Parking space finder app
This application can help people find free parking spaces in a specific location. The app can use GPS, webcams, location, and real-time parking data to find a free parking spot whenever you need it.
Gift suggestions app
This application can view your friend's entire social media story to suggest the best gift for your friend based on their posted content.
What's in your fridge
This app considers all the vegetables, spices, and other ingredients in your pantry or refrigerator and then suggests what you can cook at home based on that. It also gives you instructions on how to prepare a specific dish.
It's time to wash your car
An application that analyzes the weather forecast and suggests when is the best time to wash your car.
Lifestyle app creation tips
This category is so huge and so multifaceted that you can easily get lost in it! So we have few tips for lifestyle app creation:
Don't strive to solve too many problems with one application.

With a small budget, invest in the development of a well-thought app for one platform that is most popular with your customers.
Make your app simple, convenient, functional, attractive, and inexpensive (or even free).

Make your lifestyle app fast, even on the most basic devices.

Make a unique app – clones are not interesting to anyone.

Trust specialized agencies for whom application development is a day-to-day job.

Contact us

– and we will make the best lifestyle app together.