Illustrations as part of graphic design have a wealth of different plus points that make business owners use illustration services in their projects. Among other things, illustrations have a unique power to tell stories. Many professional illustrators started their journey into working for serious businesses when it dawned on them in their childhood (or a bit later) that they could build and tell stories without words and captivate people with them. Today, brands hire illustrators to bring this magic into the world and help them shine.  
One of our latest UI/UX design projects involved website design for German language A1-B2 courses for medical workers with narrative custom digital illustrations as one of its highlights. Read on to know what we did to outline the task and find the solution, and get inspiration for the projects of your own.
Project and task
GermanLanguage.ph is an online school that teaches the German language to medical workers from the Philippines and nearby countries increasing their chances to get a job in Germany. While the domestic job market for nursing professionals from the Asia-Pacific region is scarce, many countries need them. Working conditions are not the same everywhere though. Hospitals in Germany need experienced nurses too and the employee rights are strong there. However, to work in the healthcare sector there you need to prove your German language skills at level B2.
This is what our client offers — specialized language courses for nurses and other students to help them pass exams, get an internationally recognized certificate, apply for a visa, and make their dreams come true. The courses are tailored for the needs of medical personnel, feature very flexible learning schedules, and help with cultural adaptation. They position themselves as helpful and competent experts recognizing that caring for other people is hard work and caring for their students in return.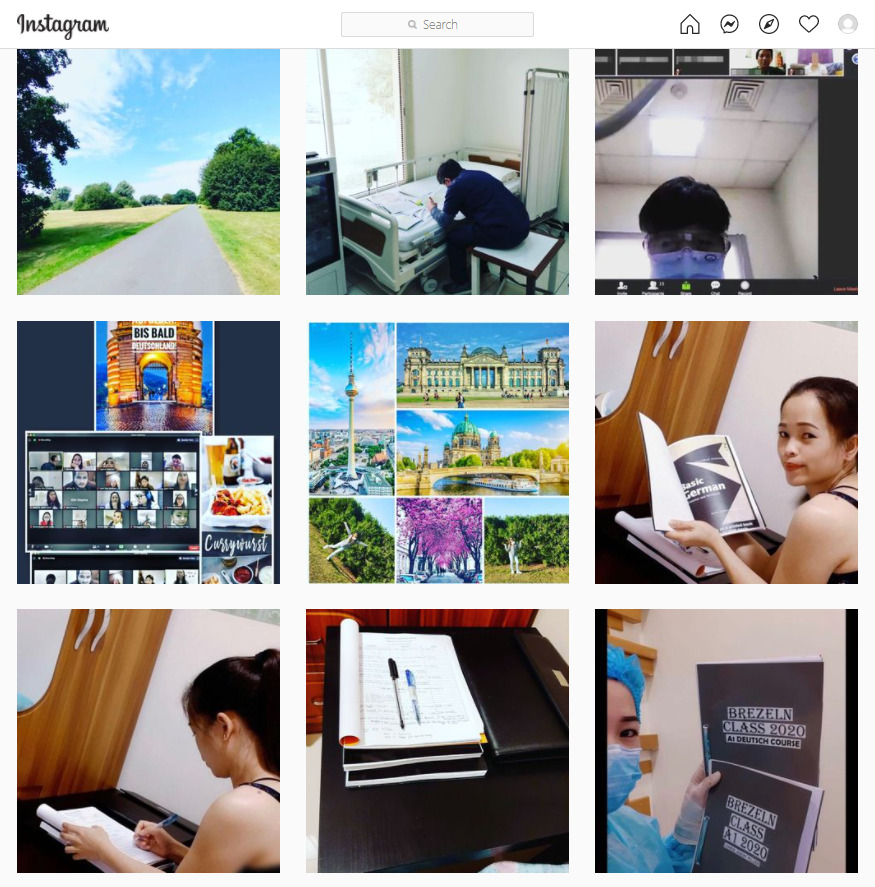 The client wanted to make their web presence more efficient and needed to redesign their small promotional website to better connect with the target audience, tell about the advantages of their product, and communicate the message by creating a relatable story to symbolize their clients' successes.
Solution
We were impressed at how humanistic the company's mission was and they cared about their customers and felt that we needed to choose something special among our graphic design and illustration services to be able to translate this attitude into reality. Soon we understood that the best way to do it would be with custom illustrations.
Why do people choose custom illustrations for their apps and websites at all? There are cases when photography (even the stock one) might be a better choice. After all, it's more affordable than custom graphics and takes much less time to prepare. Custom illustrations though give incomparably more space for creative expression and are a superior choice when you need to tell a story. Storytelling may be a buzzword but it's a powerful technique. In a certain sense, every piece of content we produce tells a story, intentionally or otherwise, be it an article, a logo, or a comprehensive narrative approach to UX design. The project before us was very people-oriented, so choosing to take visitors on the journey using illustrations seemed like a better idea for this case. Humans are very visual creatures and perceive visual stories much easier. What's more, designing for medicine-related projects, you often need to ease its general degree of gravity and graphics are perfect for that.
Designing with illustrations in mind, we felt that we had more freedom in the matter of creative expression while staying true to the brand's image. With graphics, it is much easier to explore ideas without losing touch with marketing strategy. Sometimes, those ideas can be so fitting that they affect and change the general graphic design of a project. All in all, it was clear that the project we were working on needed a more specialized and stylistic approach than any photo would give.
When searching for the visual style, we based our vision partly on some of our other design concepts that the client liked:


Filipinos are known for their optimism, resilience, and ability to smile no matter the situation. So to emotionally relate to the target audience and to emphasize the products' value, the client wanted the new design to feel:
light-hearted and joyful

friendly and supportive

inspiring and optimistic

dreamy and sweet but without the air of childishness, respecting their student's resolve to change their life circumstances.
The next step was to come up with a strong story that would provide emotional value. The thing with character illustrations is that you also need to endow them with a convincing narrative. Otherwise, it may happen that although a character seems to look nice, you fail to connect to them because without a good story behind the looks they feel hollow and forgettable. You can sure remember characters like that from books and movies. Emotions, desires, and details — that's what makes the works of art a part of our lives.
Though we decided on the flat style for the final product, a style that does not imply any intricacies and too many details, it's still possible to catch and clearly convey a character's mood with facial expressions and poses. Not only the unhappy face, but note the slumped shoulders that make Tala look depressed in the first picture and how confident, glowing, and open to the world she looks in the last ones. 
We also made sketches for other pages of the website, including the one with information for students: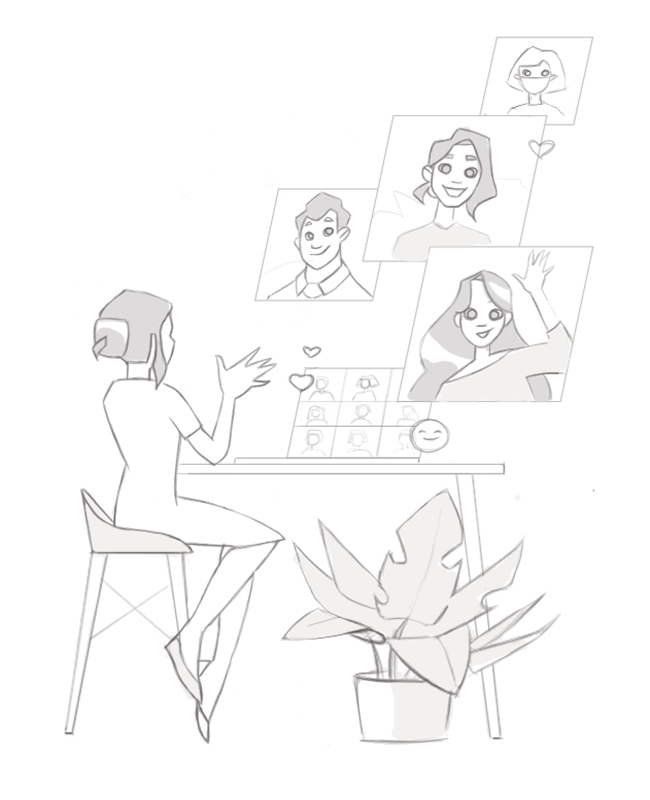 And the one for employers:


Next came the phase of coloring. We chose warm, pure, and vibrant colors that we also used in the general design of the website to keep the consistency throughout the whole project: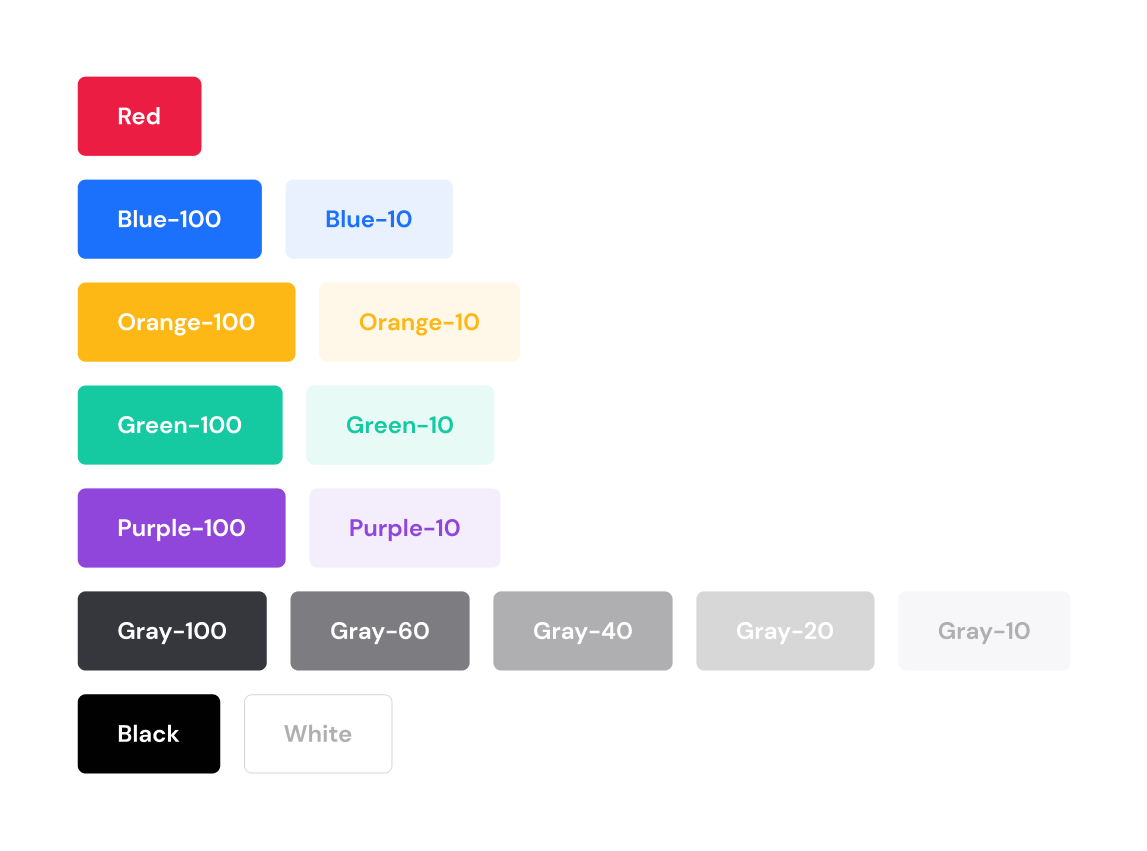 Bright and bold colors are a way to stand out, especially with custom illustrations filled with optimism. However, to get the audience's attention without tiring them, this trend is best used coupled with uncluttered designs: fewer details but more shapes. The appeal of the flat style lies exactly in this conciseness it gives in regard to visual expression. But, as you can see, being minimalistic doesn't mean being boring. If using bold colors is not on the list, you can also make your flat-style illustration stand out more by choosing unusual angles and compositions, adding some dynamic, effects like textures, and more.
Final result
Below you can see the finalized versions of the illustrations we used for the Students and Employers pages: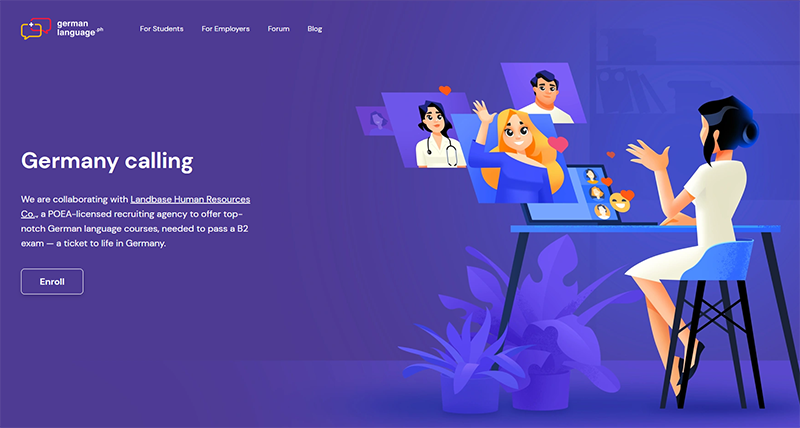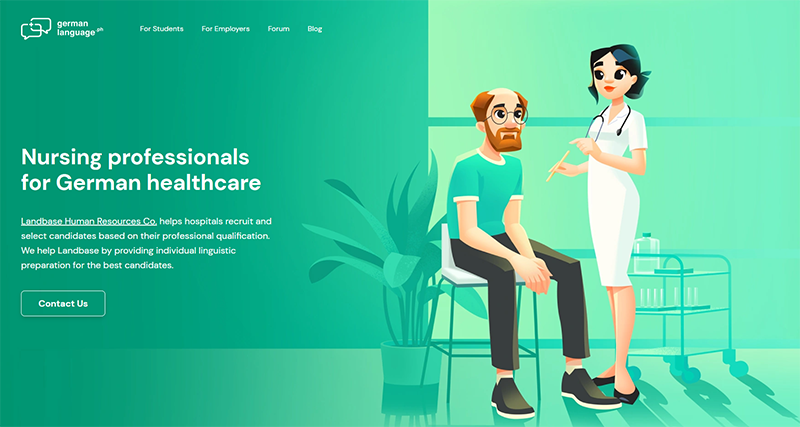 And here are the finished graphics for the main story: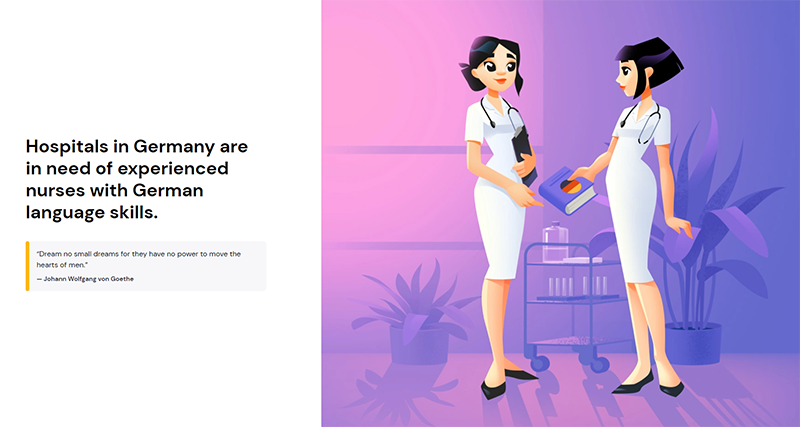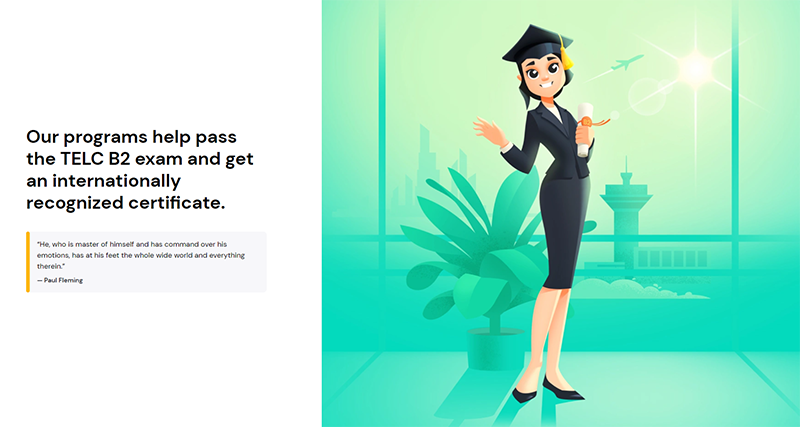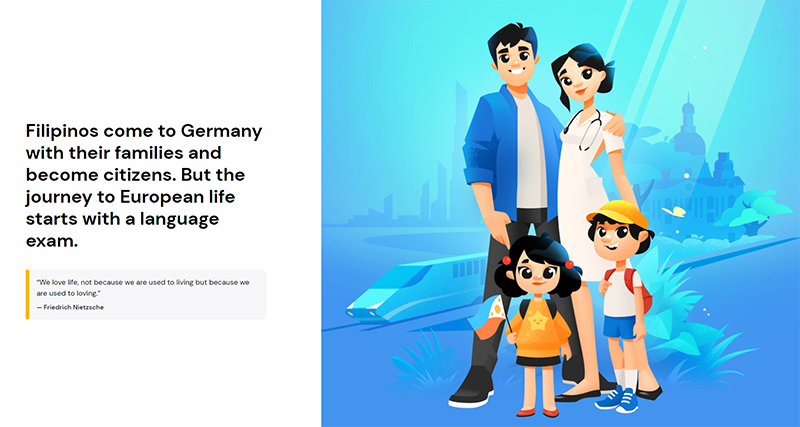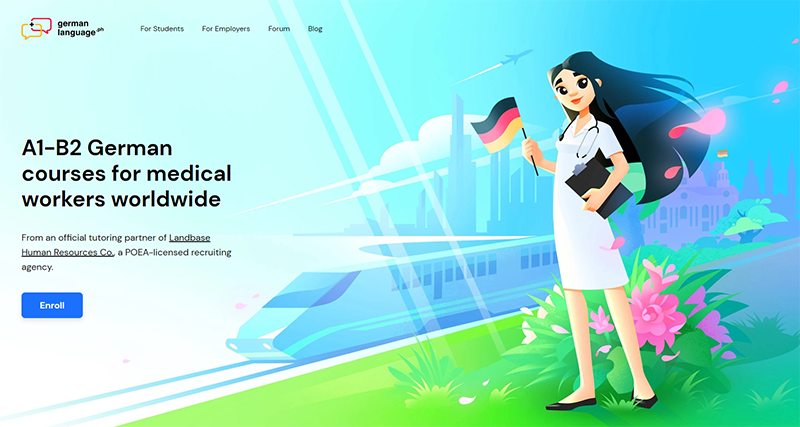 A happy ending for Tala and a new beginning for our client. Even despite the pandemic, their business has flourished. They are now expanding on other South-Asian countries like India and Malaysia.
Take a look at how the new GermanLanguage.ph looks like today. Now all together, the eye-catching and bespoke graphics set the needed effect. Painting a narrative, they are consistent both visually and emotionally. The new website looks fresher, more personal, and memorable. 
* * *
Professional illustrator cost is usually high, but illustration services are a wonderful way to blend an artist's imagination with customers' expectations to give birth to something special that would get into their heads and connect. What's more, while digital graphics really seem to reign these days, there are still myriad ways to make them unique. In the context of UI/UX design, the right kind of illustrations can help the rest of the content make a bigger impact and stand out in the torrent of information a modern smartphone user gets every day. As for the price, there are ways to cut costs. For example, by using outsource illustration services of an offshore company like us.
Need to find an illustrator? Before hiring one, first, take a look at what they can and like to do and whether you like it. There are much more of our custom illustrations in our Dribbble account, check them out. Enjoyment guaranteed.