Illustration remains one of the main trends for 2022. It is a powerful visualization tool in interface design, thanks to a huge selection of styles and techniques, we can convey different moods.
One of the most effective methods is to use non-standard, creative craft illustration. The more unusual — the better. Custom artwork allows you to stand out for sure, and it is successfully used on promotional sites, e-commerce sites, and portfolio sites. Illustrations can reflect the branding, style, and mood of the company very effectively. They echo the brand and help to convey a company's concept much better than photos. You can buy fully editable commercial illustrations and adjust them with colors and details to the company's goals.
The illustration is a mediator between the mass consumer and high art. Modern European trends come from the avant-garde art of the twentieth century. Poster graphics and illustrations act as a link and help explain this art to the masses. The graphic stylistics of Picasso, Matisse, the colors of Rothko, and the trends set by Warhol and Liechtenstein, are revealed in a new way through ingenious and witty plots of illustrations.
We will share the 25 amazing illustrators for you to follow for inspiration — they create unusual characters, hand-drawn sketches, and have a distinctive style. This is the list of particularly talented and noteworthy artists that you definitely don't want to just scroll past.
Daniel Frost
British illustrator Daniel Frost (@danielfrostillustration) has crisp and vivid aesthetics. He values natural colors and the simplicity of composition. Daniel is fixated on odd people and strange situations, which he reinterprets in his mind in an imaginative way.
Guy McKinley
An artist specializing in atmospheric pencil drawings. Guy has already worked with major brands such as Disney, BBC, Adidas, and New Balance. His Instagram account (@guymckinley) is full of masterfully drawn concept pieces. McKinley's work is infused with his love of old comic and storybook art, with a visible  Japanese influence in a lot of his work, and so pattern, color, and details.
Agathe Sorlet
Agathe (@agathesorlet) is a French artist based in Bordeaux. Her minimalistic illustrations with bright color splashes pay homage to women and love. The colors are usually two and are alternated with contrast, to give more writing to the scenes; her creations don't require many colors to leave their mark.
\
Matteo Berton 
Illustrations with an emphasis on color and geometric shapes. The author (@matteberton) is the owner of the gold and silver medals of the New York Society of Illustrators. Works with New York Times, New Yorker, Wired, Monocle, Der Spiegel, Timberland, Fast Company, Feltrinelli, Moleskine.
Cécile Dormeau
Cécile (@cecile.dormeau) creates illustrations from everyday life. The theme of the drawings is women with all their oddities and cute features. Cécile Dormeau is using her art to confront and hopefully make a change in stereotypes that are central to evolving how both women and men should be able to perceive one another without judgment.
Sergiy Maidukov 
Illustrator from Kyiv, Ukraine. Sergiy (@sergiymaidukov) draws for such major clients as The Washington Post, The Village Voice, The Boston Globe, The Architectural Review, Esquire Ukraine. Original and memorable style. The works that Sergiy publishes are ready-made images for magazines and many sketches. His style invades the blank page with gusto, unusual compositions and ill-proportioned characters.
Seva MFN
Seva (@seva_mfn) makes illustrations for magazines, such as Esquire, tattoo sketches, movies and shows, and more. His works are always bright, defined and stylish.
Marlon Mayugba
According to Marlon's website, the designer (@marsmygb) defines his style as abstract, anamorphic, & surreal compositions. He uses geometric, still-life, and ordinary objects in flat and 3D perspective surroundings.
Justin Mezzell
Justin (@justinmezzell)is an illustrator and designer currently based in Orlando, Florida. A graduate of the University of Central Florida, he specializes in illustration, digital art, and UI/UX design. His an unprecedented retro/futuristic vibe.
Robin Davey
Robin Davey (@robin_davey) is a master of seamless, detailed and quirky animated illustrations. His illustration is comprised of bold, clear-cut shapes assembled to create cute, bumbling characters representing human beings from all walks of life, combining geometric precision with bold color and playfully exaggerated forms.
Jurek Mazurek
Jurek (@jurek_mazurek) is an illustrator with a gentle and unique style, and a soft pastel color pallette. He specializes in 2D character illustrations.
Dennis Wardzala
A designer, illustrator, and animator, Dennis (@denward) is one of the promising underdogs of the year. 
Anastasia Druzhininskaya
Anastasia (@druzhininskaya) has worked on such brands as Puma, Cosmopolitan, Harpers Bazaar, Jo Malone, Woman's Health, etc. Her minimalistic 2D illustrations convey all the spectre of human emotions.
Mijke Coebergh
According to Mijke (@mijk.jpg), through illustration, she works on making the world a bit more understandable, inclusive, and positive. Her illustrations are characterized by bright colors, hand-drawn textures, and retro aesthetics.
Steve Scott
Jelly London characterizes Steve Scott (@steve_scott__uk) as an established animation director and illustrator – a true master at mixing fresh contemporary style with a nod to the retro. Juxtapoz magazine described him as "witty, compelling, completely inspiring and diverse."
George Townley
George (@george.townley) is an illustrator and designer based in London who celebrates Los Angeles landmarks with a touch of retro.
Rafael Mayani
Rafael (@rmayani) draws inspiration from the vibrant colors and shapes of Mexico and the natural beauty of Canadian landscapes.
Willian Santiago
Willian Santiago (@willian_santiago) was a Brazilian illustrator known for the playful and lively colors typical of his work. He used bold color palettes and tropical motifs to depict his picturesque surroundings. Fairytale-like themes, wondrous flora, and magical fauna lure you to dive right in and explore the exotic landscapes he beautifully illustrates.
Fran Labuschagne
You can recognize Fran Labuschagne's (@franlabuschagne) illustrations for their lovely, clearly defined, elongated physiognomies and pastel colors. She mainly draws circular geometric shapes, which breathe perfectionism into her illustrations.
Milica Golubovic
Coming from the coast of the Adriatic Sea, Milica Golubovic (@_milica_golubovic) is an impressive Montenegrin illustrator. 
Vedran Klemens
Vedran Klemens (@klemensovo)  is an impressive illustrator from Croatia. He takes his time creating funny characters, and studies them well before he draws them. Vedran's work clearly demonstrates his immense dedication to creating amazing illustrations.
Boris Kuzmanovic
Boris Kuzmanovic is an interesting illustrator who doesn't necessarily stick to one style or follow any trends, but he rather boldly experiments with different materials, collages, and techniques.
Hsiao Ron Cheng
Drawing photorealistic portraits isn't exactly the most popular art form, however the illustrator Hsiao Ron Cheng has shown us how captivating these artworks can be.
Victoria Semykina
Victoria (@victoria_semykina) creates free-hand drawings, she manages to bring characters into focus and perfectly illustrate any movement, making it all look like a frozen movie frame.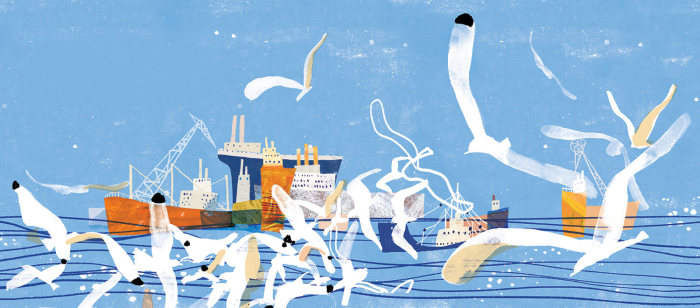 Aleksandar Andi Zolotic
Andi is an illustrator that brings us back to the times when ponds seemed like a sea, animals could speak, and our favorite tree was our second home. 
Graphic illustration is not just pretty pictures. They unite and enhance the entire user experience as a whole. Any business can be successful in design, whether it's a product or a service. It all depends on the wise choice of the outsourcing company. BTW, if you want to create an app, you might want to read our article on how to hire an outsourcing agency that gets you right. 
Take a look at more examples of illustrations on our graphics page, and read some stories in our portfolio where we tell more about how we used illustrations in commercial projects.