Built an app for a well-being business startup
Fit for Bucks is a mobile application that allows people to use their daily step counts in exchange for the local merchants' products.
Brick-and-mortar shops have a history of struggling with conversion ever since online and mobile shopping took over. Rightfully so, people value their time and rarely wander around discovering places. Our client's aim was to provide a solution to make wandering around cool again and attract a steady flow of customers to traditional shops. Fit for Bucks app was meant to become the platform for this new type of relationship.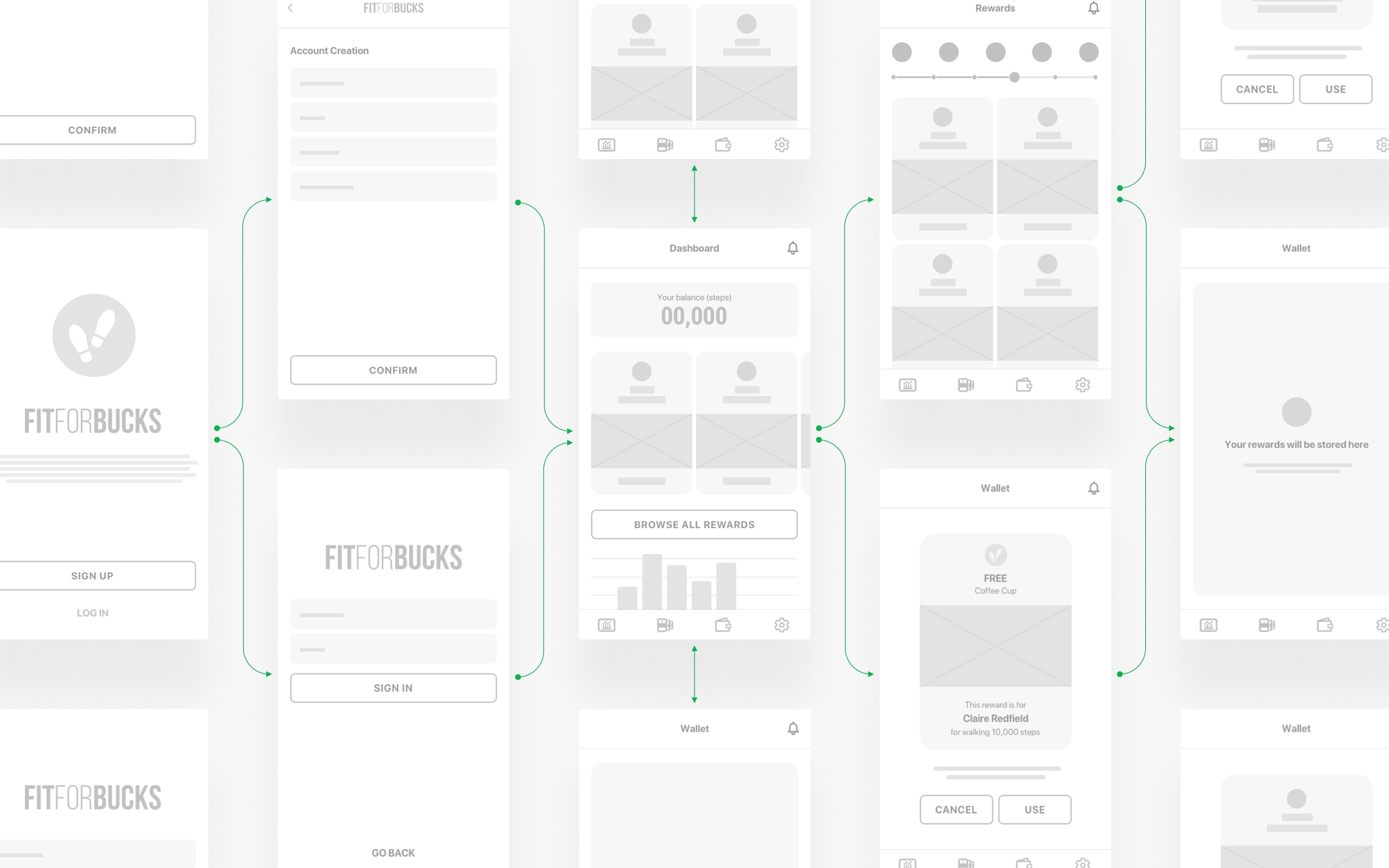 Folks at Fit for Bucks first contacted us late in 2017 with a working UI/UX prototype and a technical inquiry to build an MVP. Based on the idea of using the power of wearable technologies to help people get fit, the app was supposed to cater to local brick-and-mortar entrepreneurs by attracting people into their venues.
Since the project came to us somewhat designed and branded, our main objective and the subsequent challenge was the app adaptation to the latest trends of mobile design.
Our main design objectives were to make adjustments to the UX of the Fit for Bucks iOS app, maintain the look and feel of the application, and emphasize intuitive and dynamic aspects of the fitness app.
The appearance of a wellness app has to cater to the needs of daily use and not be aggressive or haunting. At the end of the day, the purpose of the product is to reward users for their real-life fitness endeavors, not the time spent on their phones.
For this, we polished the dashboards and data visualization, accentuated award redeem cards, and made onboarding clean and simple.
Concerning mobile development, we developed the iOS application, built the API, and developed the Admin Portal with major expansion flexibility.
Fit for Bucks relies heavily on the integration with wearable devices. Along with the diversity of this, come certain limitations. Activity trackers produced by different manufacturers have different logic and require custom application sync methods.
Another challenge for our developers was the fact that scamming and cheating was becoming an issue of concern. We came with an algorithm to protect business owners from that.
A deeply integrated with wearables mobile application aimed at helping local business owners build better conversion while promoting physical activity among people.
An innovative business platform
Fit for Bucks is a groundbreaking mobile application that utilizes the perks of digital wellbeing to connect local businesses to their customers.

Steven Lee
Founder, Fit For Bucks
"Everybody who's seen the app tells me how much they like it. I'm very pleased with the app."