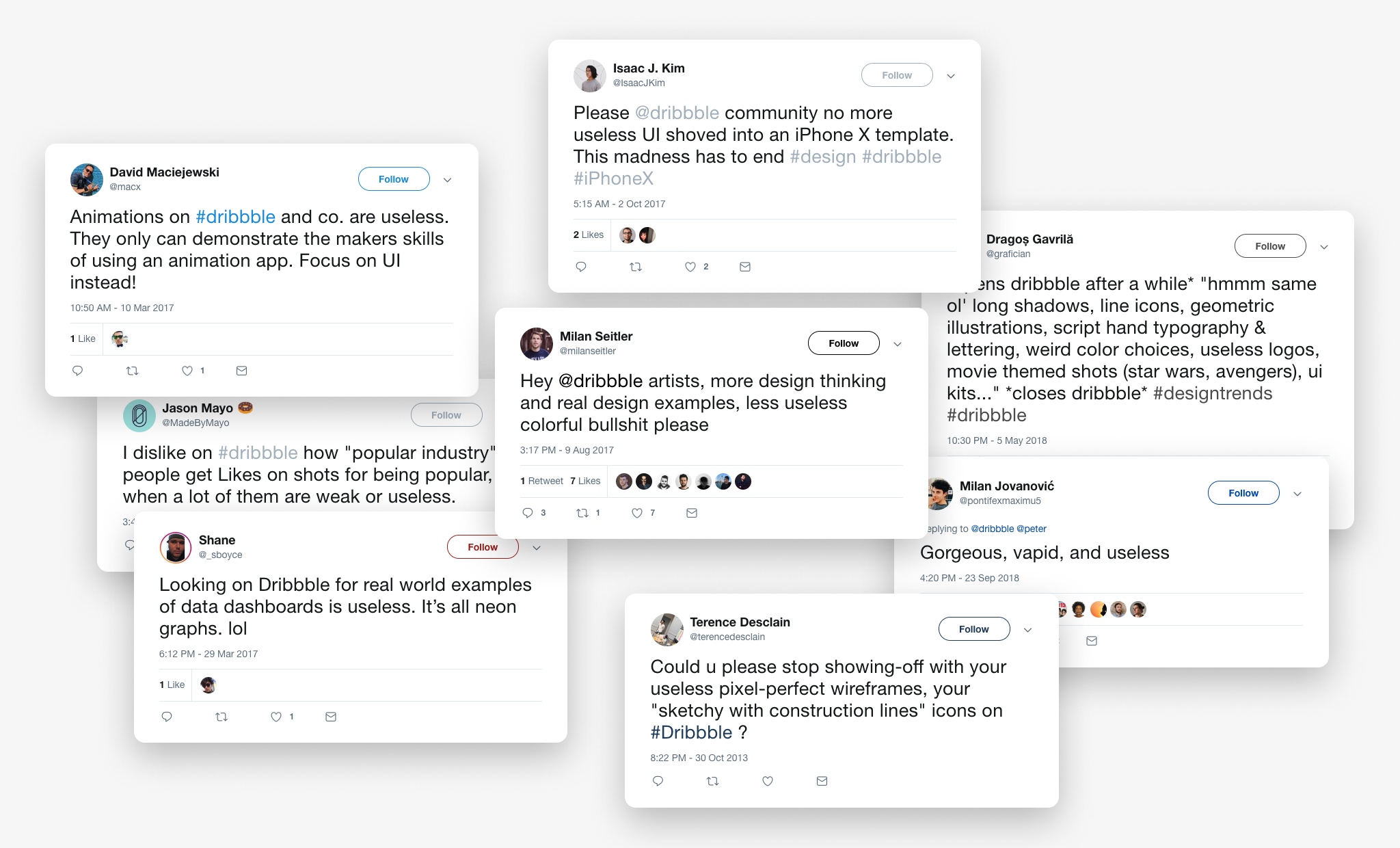 The main idea behind all the criticism is Dribbble's antithesis to the definition of design. Design solves specific problems ? Nothing against this statement.
But Dribbble.com was not designed in this context. It deals with a different hyle.
Now let's give dictionary definitions a break and sit back for a moment. If you take a look at the Popular page and contemplate what you see, it won't take long to realize that this platform is virtually the only one molding design trends and promoting them on such level.
Indeed, a colorful shadow under the button doesn't solve shit but this technique has been used by every other designer on the internet by now.
The first place to spot this technique was Dribbble and a huge number of designers played with it for a goof and at some point it became a trend. And trends make their way into what we call "real" products. So a Dribbble-inflicted animation, gave us colorful shadows now used everywhere.
The point is, with all the alleged uselessness of Dribbble, "it's fair to say I'm not the only one starting the day with a cup of coffee infused with the Dribbble-Behance-Pinterest trifecta." – Kirill.
Providence
The case transcended beyond the buttons and vivid shadows. Same thing happened to the glitch effect experiments, augmented reality shenanigans, voice assistants, and so on. How did these ideas come up?
Can't think of any other place online where you can work on a concept or a piece of a feature and get feedback from from a profession-oriented audience as fast and hustle-free as on Dribbble.
A quick experiment: trace all the major design communities after a big tech event (or any hyped event) and guaranteed Dribbble will be the first one to react.
For example, 2017 US Presidential Campaign or the latest Apple Special Event. In both cases, before the events went down, designers were already in the mix iterating ideas, biases, and sharing mockups.
Dribbble gives us the power to not give a fuck about the rules and regulations, try out new, mix things up, and get instant peer feedback.
Format
Truth is, people love it. All the top-notch design teams have presence there. Google, Facebook, Ideo, Dropbox, Slack, Shopify, Lyft, and so on are on Dribbble. And just like everybody else, they get inspiration, post work in progress and explorations.
A lot of whining comes regarding the 800×600 px and the GIF format with no video support. There are a couple reasons for it:
Strategical

. This is a signature Dribbble format. Becoming the second Behance could potentially oversaturate the market.

Technical

. Upload speed of Dribbble is fast. So is the search results feed. This requires the works to be lighter.
It's clear about the technical part but why can't Dribbble scale up and become something bigger? Be sure, this is another cool thing about the platform. The Dribbble team is extremely sensitive and knows when to implement changes without harming the format. As the result, the latest update allows you to load 1200×900 px works.
Our task so far is to give the platform a fair usage, enjoy the project, and give feedback regarding the potential enhancements.
Dribbble's format allows us to distance from the business logic and work in the idea exploration mode.
Dribbble is like Instagram for designers. You can regularly post raw graphics of whatever you are working on or do thought-out shots of complete polished projects. Anything goes. With the right approach, this format will help you present your work easier, faster, and cheaper than, say, Behance.
Parallelism
There is a tangible sign of an argument which is much bigger than just design. It's a philosophical problem: utilitarianism Vs personalism. What on the first sight does not seem to present any value is frowned upon and gets labeled as "useless".
Our age of profusion sort of calls for it: we want immediate gain and we don't want to waste time on redundancy.
That's what designers fear – being irrelevant. Designing something that never goes into production means not getting paid. Playing it safe and only doing what counts is an efficient way, but think about the long run. There's only so much you can do in your time before it runs its course. The industry is ruthless and it will maul you if you don't mind P's and Q's.  
This is all over the place. Why do they make crazy car concept that never come to fruition? Well, they do. Any concept artist will tell you that in order to create a distinct feature, it has to be exaggerated and even freaky.
Of course, no BMW will ever look like this. But the concept is about a different thing – the personality of the new model, the guidelines and directions to work towards, the emotions it provokes, and the statement it makes before even the smallest part comes into production.
Another example is the fashion industry. Everything we wear starts from the ideas put together by the fashionistas you'd never associate your casual outfits with.
As ideas morph into cookie-cutter designs to fit a wider audience, they lose their ties to the original concepts.
Now does it derail the creativity and boldness of clothing designers who don't care about whether the garments they conceptually create are good for doing groceries? However, the trends they set, do make their way into our closets.
The unorthodox forms and materials have to be tried in real context to show their viability. That's what concepts do. Not every design concept ends up as a product. Nor does it have to. Sometimes (most times) it's about charging an idea with some real thought just to see where it may lead.
Not every damn neon line has to be implemented in code and be visible in every browser. If you can't tell a real thing from an inspirational artifact and only condone rationale, obviously Dribbble is not your thing. What's cool is Dribbble doesn't give a shit. You can post fantasy work, real UIs, artworks or even this. Whatever floats your boat.  
You can enjoy a fancy Dribble cocktail with God only knows what in it, or get hammered on raw shots. Your call. But if your job is to describe the sensations, what do you choose?    
Talking about the specific UI/UX benefits of being an avid Dribbble user, we are confident in the role of Dribbble in desigers' adoption of trends. It is always alive and full of the right kind of energy. For everything else, there are specific platforms.
While most of the Dribbble content is caviar to the general, there is no better place to cash in on ideas that will ultimately be functional. At the end of the day, who's to say what works and what doesn't?
"There ain't no sin and there ain't no virtue. There's just stuff people do." ― John Steinbeck, The Grapes of Wrath